Instant Pot Asian Cookbook And Air Fryer Recipes: 2 Books In 1: Learn How To Prepare Over 150 Authentic Asian Dishes At Home (Paperback)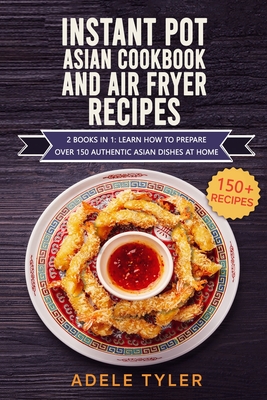 $19.99

Not in Stock... Available to ship in 3-5 days​
Description
---
Are you looking for an Instant Pot Cookbook and an Asian Cookbook all about Air Fryer technique?In this 2 books in 1 edition, Adele Tyler will teach you how to cook Asian recipes.
In the first book, Asian Air Fryer Cookbook, you will discover over 77 recipes for crunchy Asian Dishes prepared using an Air Fryer.
Air Fryers are extremely trendy right now. While regular fryer machines use a lot of oil to cover the food, resulting in a less healthy and more expensive cooking, in an air fryer the crunchy result is graded my hot air that circulates at high speed producing a crisp layer.
Cooking with Air Frier is safe and easy and a wide range of recipes can be executed in it, preserving the real flavors of the ingredients and giving best of the frying technique without the problems linked with over usage of frying oils.
While it can be used for every type of cuisine, it is particularly suitable for Asian food. Traditional Indian, Japanese, Chinese and Thai recipes often rely on fried ingredients and processes and using an air fryer is a good way to limit up the usage of fried oil and its impact on healthy eating.
In Asian Air Fryer Cookbook you will learn:
Benefits of Air Fryer
How to cook over 77 recipes with Air Fryer
How to prepare at home Indian and Chinese Air Fryer Recipes
Cook over 77 recipes from Japanese and Thai traditions
If you love Asian food and you want to keep an eye on your health, this cookbook is for you
In the second book, Instant Pot Asian Food, you will discover how to slow cook and modern asian food recipes at home
Pressure cooking is the process of cooking food with high pressure steam created within a sealed pot. Instant pot is a world famous trademark for a complex for that can be used for pressure cooking and slow cooking, making it way easier (and faster ) than before to cook complex recipes that require long cooking time and extra careful.
In Instant Pot Asian Cookbook by Adele Tyler you will learn:
Over 80 recipes for Asian Dishes
Slow cooker recipes for the best Asian Food
20 Indian Instant Pot recipes
20 Thai instant pot recipes
20 Chinese instant pot recipes
10 Vietnamese instant pot recipes
10 Korean instant pot recipes
If you love Asian flavors and food, this cookbook is for you
Scroll up, click on buy it now and get your copy today.