Keto Copycat Recipes: Easy, Tasty and Healthy Cookbook for Making Your Favorite Restaurant Dishes At Home, Losing Weight and Eating Well Eve (Paperback)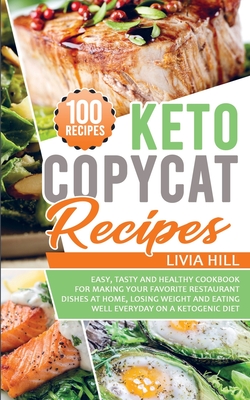 $13.38

Not in Stock... Available to ship in 3-5 days​
Description
---
Do you want to eat the best Restaurants Specialities comfortably at Home whenever you like and Losing Weight at the same time, without spending a fortune on expensive Ingredients?
The Ketogenic diet can be hard. Sticking to specific foods, paying attention to nutritional values, and planning your meals every day can be a true challenge for many people, especially for beginners. Once you start a Keto Diet, dining out with your family or friends will inevitably change: you simply don't have a full choice anymore. Imagine having to figure out what to eat every time you sit in a restaurant because of your strict limitations. Eating out together should be a relaxing moment, where you can enjoy your favorite dishes, without having to stress about whether you are eating the right stuff or not. Moreover, what you need to eat doesn't necessarily match with what you like, risking to ruin these important moments. In this regard, a Ketogenic Diet could be your enemy. If you, like me, understand the potential of the ketogenic diet, you know that it must be taken seriously. What some people don't know, is that this doesn't mean you have to renounce eating well, treat yourself and give up enjoying your favorite restaurant dishes

Keto Copycat Recipes by Livia Hill is a detailed Cookbook that guides you step-by-step on 100 Ketogenic Copycat Recipes taken from most known (and also not-so-known) American restaurants, revealing the best specialties that you could find in menus and what fixings you could make to turn them into Keto. It includes verified and personally tested methods with all the information you need: you will get to know the specific ingredients and the secret methods adopted by restaurants, but also useful tips on doses, servings, and nutrition to track your diet. This will allow you to easily recreate the same dishes as served at the restaurant, cheaply and accurately - and of course, Keto-friendly There is a wide range of choices: breakfast, appetizers, lunch, salads, pizza, snacks, dinner, and desserts.

- Why you should avoid a specific food if you want to lose weight quickly
- The single powerful trick that will turn your favorite restaurant dishes into Keto
- 100 unveiled Secret Recipes from +30 Restaurants: ★Texas Roadhouse, ★Chipotle, ★Cracker Barrel, ★Olive Garden, ★Applebee's, ★Red Lobster, ★KFC, ★Starbucks, ★Shake Shack, ★Maggiano's, and ★ many others
Even if you are not a great Chef don't be afraid Thanks to its step-by-step feature, Keto Copycat Recipes will guide you replicating your Favorite Dishes through easy and quick Recipes. You can now say good-bye to those boring meals.
Scroll back up and click the BUY NOW to explore exclusive Keto recipes