PowerXL Grill Air Fryer Combo Cookbook for Beginners: 1000-Day Quick & Easy PowerXL Grill Air Fryer Recipes for Busy People Fry, Bake, Grill & Roast M (Paperback)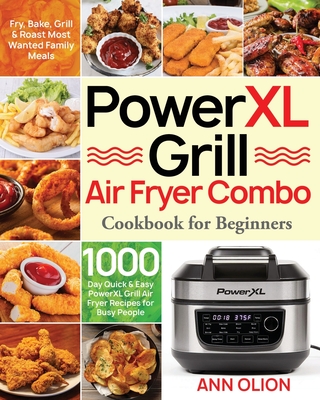 $11.98
Email or call for price.
Description
---
Enjoy 1000-Day PowerXL Grill Air Fryer Combo Affordable, Quick & Easy Recipes
Do you want to cook with your PowerXL Grill Air Fryer but don't know where to start? Quit worrying In this cookbook, you'll learn how to not only start, butlove, your PowerXL, which will guide you to amazing meals in themost affordable, quick & easy waypossible.
You'll learn to cook the highest quality super tasty PowerXL Grill Air Fryer Combo recipes, offering tons of scientifically proven health benefits, such asimproving your appetite, cholesterol, blood pressure and reversing diabetes. Everything you need to get started is right here inside this PowerXL cookbook.
What can you get from the PowerXL Air Fryer Grill Cookbook?
What is PowerXL Grill Air Fryer Combo?
Parts and Accessories
Operating Buttons and Preset Functions
Cleaning and Maintenance
30-Day Meal Plan
Easy Tasty Recipes
For recipes, you will find various categories as follows:
Breakfast
Poultry
Beef, Pork & Lamb
Fish & Seafood
Vegetables & Side Dishes
Snacks & Appetizers
Desserts
And Much More
Pick up your copy today and start cooking amazing PowerXL Grill Air Fryer recipes that cater for the diverse needs of you and your family, allowing you to cook super tasty budget friendly Grill Air Fyer recipes and save time, money and stress in the kitchen

Click the" BUY NOW" button to start your new Air Fryer lifestyle