Korean And Japanese Bowls: 3 Books In 1: 77 Recipes (x3) For Homemade Korean And Japanese Bowls (Paperback)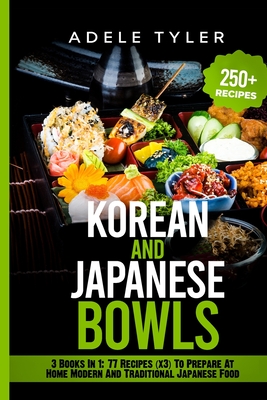 $29.99

Not in Stock... Available to ship in 3-5 days​
Description
---
Do you want to learn how to cook Korean and Japanese bowls at home?In this 3 books in 1 edition, you will find over 300 recipes to prepare sushi, bento and traditional Korean bowls at home.
In the first book, Bento and Sushi Cookbook, you will find 77 recipes to prepare Bento and Sushi at home.
A bento is a traditional Japanese single portion meal. Many bento places are opening in these days, but it can also be easily cooked at home.
The most famous Bento are:
Hinomaru resembling the Japanese flag with umeboshi in the middle
Sake bento, a simple bento with a slice of broiled salmon as the main dish.
Tori bento consists of pieces of chicken cooked in sauce served over rice. It is a popular bento
Have you ever thought about preparing sushi at home?
Also sushi can be easily executed at home and in this book book you will learn the technique and the secrets to prepare delicious sushi at home.
In Sushi and Bento Cookbook by Adele Tyler you will learn:
How to prepare sushi at home
How to prepare bento at home
Over 77 recipes for sushi and bento traditional recipes
In the second book, Korean Cookbook, you will learn how to prepare tasty ingredients with umami flavors.
Coconut oil. Soups. Spicy fried chicken. Kimchi. Bulgogi. Mouthwatering? Of course. Looking for your local Korean restaurant? Stop. You can prepare all these dishes at home in your kitchen
Most of the ingredients of the Korean cuisine are available in your local grocery store and with these short tips you will be able to become a Korean home chef and surprise your friends and family.
Korean food is quintessential asian flavors. From broths to soups, from pork to fermented vegetables, the Korean dishes scream umami, spices and flavors like few other cuisines in the world. Preparing a Kimchi dish at home, with its sour and spicy taste and the most amazing fermented vegetables is easier than what you imagine. What are you waiting for?
In Korean Cookbook you will learn:
History of Korean food
How to cook Korean food at home
Traditional and modern Korean recipes
How to cook Kimchi, Samgyeopsal, stir fried rice and noodles and Bibimbap
If you want to impress your friends and family, give a twist to your dinners and cook at home healthier dishes compared to the next door takeaways, this book is for you.
In the third book, Bowls Cookbook, you will learn how to prepare over 100 bowls for friends and family with an Asian twist.

Bowls are extremely trendy lately. One of the reasons might be their insta-friendly colors and shape. Another solid reason is the convenience of a quick one dish complete meal. A third reason can be found in the nutrition facts that are often balanced due to the presence of both carbs and proteins.
In Bowls Cookbook for Beginners you will learn:
How to prepare the most amazing bowls at home
Over 100 recipes for cooking bowls in your kitchen
Ketogenic bowls for ketogenic diet
Vegetarian bowls for veggie tasty dishes
Vegan bowls for plant based recipes
When creating a bowl, the only limit sits in your mind and fantasy. Follow the recipes, but be bold and try interesting combo, you might end up creating something amazing.
Scroll up, click on buy it now and get your copy today.