The Asian Cookbook: 2 Books In 1: Learn How To Cook Over 150 Thai And Chinese Dishes For Spicy And Tasty Meals Plus 50 Vegetarian Recipes (Paperback)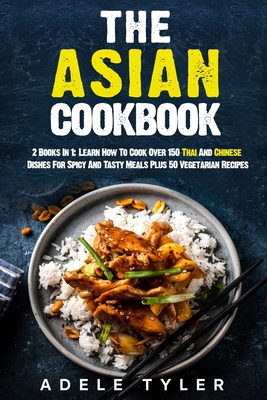 $14.99

Not in Stock... Available to ship in 3-5 days​
Description
---
Are you looking for an Asian Cookbook, focused on Thai and Chinese traditional and modern recipes?In this 2 books in 1 edition you will learn how to prepare spicy tasty delicious meals with a strong asiatic twist.
If you are in love with strong flavors, spicy meats, perfectly cooked vegetables and the most ancient yet advanced cooking techniques, you are in love with the Asian food.
In this book Adele Tyler merges two of the most amazing cooking styles, with over 200 recipes for both Thai and Chinese delicious meals.
In the first book, Thai Cookbook for Beginners, you will get to know the Asian cuisine starting from the magical Thailand. Land of majestic trees and raw, true ingredients, Thailand is a wonderful region to be discovered, with amazing mouthwatering food and kind people.
Chicken. Shrimps. Curry and rice. Thai food is simple, yet delicious. The trick is selecting the right ingredients, that can be easily found at the local grocery store, and cook them to the perfect, respecting the processes and temperatures.
In Thai Cookbook for beginners you will learn:
How to cook Thai dishes
Over 100 recipes for cooking Thai dishes tot perfection
Chapters dedicated to vegetarian Thai food recipes
How to prepare the most famous Thai dishes such as coconut milk soup, khao man gai (chicken rice), tom yam (hot and sour broth soup) and thai papaya salad
You will love Thai food and discover that executing all these recipes is quite easy, so embrace this new adventure.
In the second book, Chinese Cookbook for Beginners, you will fly from Thailand to China, discovering another world, even if somehow similar, of amazing recipes, dishes and ingredients. China is extremely big and therefore is impossible to define the "traditional Chinese dishes". Yes, everybody knows dumplings and spicy chicken, but this is not even close to the complete range of the amazing Chinese cuisine.
Despite Chinese food is known mostly for dishes like Baozi, Dumplings and Szechuan Chicken, the variety of this millenarian food tradition goes way beyond the all time classics. In this book you will explore the depth of the Chinese food history, getting to know tasteful mouthwatering recipes to spice up your meals.
If you prefer vegetarian recipes, this book has you covered, with a wide chapter about Chinese vegetarian recipes for the most amazing meals, prepared in a respectful and ethic way.
In Chinese Home Cooking you will learn:
Brief history of Chinese food and its evolution during the last century
Over 100 recipes for modern and classic Chinese dishes
A chapter dedicated to Chinese vegetarian meal prep
Tips to dose spices in the right way and tricks with ingredients you might not know yet
If you want to impress your fiends and family, this Chinese cookbook is for you
Scroll up, click on buy it now and get your copy today.