30 Minute Cookbook: MY FOOD IS READY ALREADY? - Quick and Easy Recipes For All Dieters Packed With Protein and Nutrition While Low on Calo (Paperback)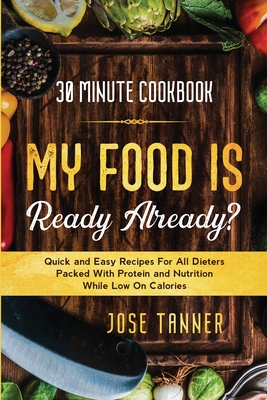 $18.99

Coming Soon - Available for Pre-Order Now
Description
---
Enjoy Your Favourite Foods The Right Way With The 30 Minute Cookbook Without Spending Hours In the Kitchen Today
Think of how many times you have experienced 'spells' that you did not feel like spending hours over the stove preparing dinner. Can you relate? How about the times during the holidays when you are planning on a houseful of guests; yikes? By the way, "Don't sweat it because you have your fabulous cooker and all of these new recipes to try out."
These are a few ways to make the path a bit easier:
Cut Back on Dining Out: Having an enjoyable meal at home is so much more personal for your family because you (and your pot) prepared it Not only that, You will eliminate the temptation to order foods that might not be so healthy and in turn-will be more expensive.
In This Book You Will Learn:
The Health Benefits of Using the Air Fryer
Mastering The Air Fryer
Delicious Air Fryer Breakfast, Lunch, and Dinner Recipes
Tips and Tricks of Using The Air Fryer
Mouth-Watering Air Fryer Dessert, Appetizer, and Snacks
Amazing Recipes Include:
Apple Dumplings
Roasted Rack of Lamb with a Macadamia Crust
AF Chicken 'Fried'
Potatoes au Gratin
Halibut Steak With a Teriyaki Glazed Sauce
Roasted Veggie Pasta Salad
Lemon Rosemary Chicken
Grilled Cheese Sandwich
Banana Fritters
Air Fried Ravioli
Cheesey Mushroom, Ham, and Egg
Air Fryer Spinach Frittata
AF Buffalo Chicken Wings
Vegan Mini Bacon Wrapped Burritos
And so much more...
Pick up your copy of the book right now by clicking the BUY NOW button at the top of this page
To Your Success