Power XL Smokeless Grill Cookbook 1000: Easy Savory Power XL Smokeless Grill Recipes for Beginners & Advanced Users to Grill and BBQ (Paperback)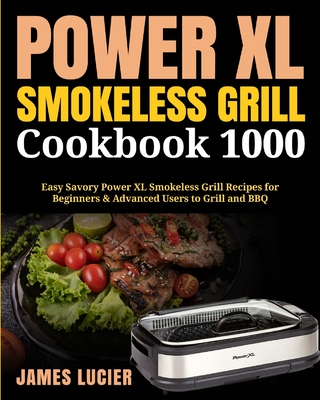 $16.69
Email or call for price.
Description
---
Are you a complete grilling newbie?
Is making s'mores or roasting hot dogs over a campfire the only kind of grilling you've ever done?
Have you tried grilling before but were not happy with the results?
Or are you looking to refine your grilling skills and expand your repertoire of grilling recipes?
Grill your favorite foods to perfection All year long with the Power grill. Make delicious food indoors with electricity on this smokeless grill with a built-in fan. Grill up to four large steaks, cook up to six juicy burgers, or barbeque eight pieces of chicken at once on the large grilling surface.
In this complete guide PowerXL Grill cookbook, you will know:
Essentials of PowerXL Grilling
A Smokeless Grill May Be Healthier
It's a Grill and It's a Griddle with Easy Interchangeable Plates
Easy mouthwatering recipes
For the recipes, you will find categories as follows:
Delicious Appetizers and Snacks
Tasty Beef, Lamb and Pork
Mouth-watering Seafood Recipes
Easy Healthy Poultry Recipes
Savory Vegetarian & Vegan Recipes
Flavorful Breads and Snacks
Graceful Sauces and Condiments
More and more
The PowerXL grill quickly heats up to 450 F and maintains a constant temperature, letting you Cook food faster. Best of all, the Ceramic-Tech nonstick coating means nothing sticks to the surface of this indoor grill. Its see-through silicon-sealed glass lid lets you see exactly when your food is ready.
What are you waiting for? Grab your copy now