Ninja Foodi Grill cookbook 1000: 1000 Affordable Savory Recipes for Ninja Foodi Smart XL Grill and Ninja Foodi AG301 Grill to Air Fry Roast Bake Dehyd (Paperback)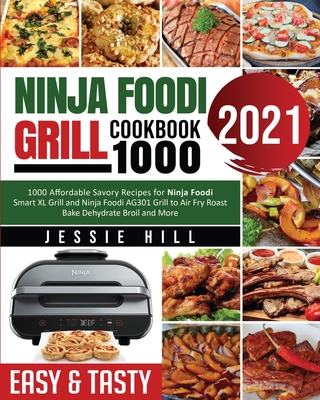 $14.69

Not in Stock... Available to ship in 3-5 days​
Description
---
Hunt down the sear, the sizzle, and the Air Fry crisp with the Ninja Foodi Grill and tasty recipe combination
The scent of char-grilled perfection with the all-American outdoor cookout atmosphere, from the comfort of your kitchen, is now in your reach.
You are about to uncover a mind-blowing indoor grilling appliance to create all your favorite grilled delicacies.
The Ninja Foodi Grill cookbook for beginners is the perfect ammunition you need for your grilling expedition regardless of season and weather.
It contains information on the following:
Introduction to the Ninja Foodi Grill?
The difference between the Ninja Foodi AG301 Grill and the Ninja Foodi Smart XL Grill.
The Advantages of the Ninja Foodi Grill.
The Usage, Cleaning, and Maintenance Tips.
Frequently Asked Questions about the Grill.
150 sizzling recipes to rival the best of them.
For the recipes, you will find categories as follows:
Breakfast and Brunch Recipes
Beef Recipes
Pork Recipes
Lamb Recipes
Chicken and Turkey Recipes
Fish and Seafood Recipes
Bread, Bagel and Pizza Recipes
Vegan & Vegetarian Recipes
Desserts and Snacks
Game Recipes
Grilling Recipes
Roasting Recipes
Enjoy