Sous Vide Mastery: 300 Recipes for the Best in Modern, Low Temperature Cooking (Paperback)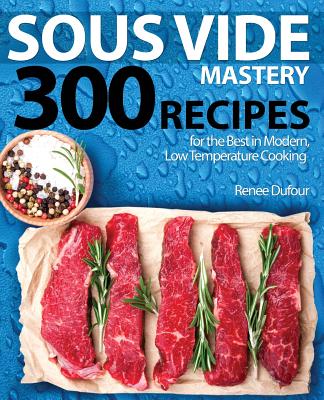 $23.99

Not in Stock... Available to ship in 3-5 days​
Description
---
Cook Like a 5 Star Chef...Without Spending Any Time In the Kitchen
Are you ready to make the most delicious and mouthwatering meals of your life?
Sous Vide Mastery: 300 Recipes for the Best in Modern, Low Temperature Cooking explains how this remarkable device gives you all the tastiness and flavor of perfectly cooked food without any of the work that sophisticated cooking typically requires.
This book will have you preparing amazing meals with complete ease. Get ready to enjoy a wealth of delicious recipes
Whether you have a sous vide precision cooker, thermal immersion circulator from Anova, Joule, Wancle, Kitchen Gizmo, or from any manufacturer at all...this book belongs in your home.
When you incorporate a sous vide precision cooker into your everyday life, you'll be amazed at how much money you can save by preparing food on the same level of the most expensive restaurants. And the best part is, that your device does practically ALL of the work for you.
Here's a preview of what you'll get from this massive cookbook:
Incredible Breakfast Recipes Like French Toast, Eggs Benedict, Bread Pudding and Cheddar Bacon Egg Bites
Over 40 Poultry Recipes such as Lemon Chicken Kabobs, Spinach stuffed Chicken Breast, Honey Garlic Chicken Wings, Turkey Meatballs, Moroccan Turkey Burgers, Duck Breast a la Orange, Perfectly Cooked Quail, and More
Over 30 Pork Recipes with all Manner of Flavorful BBQ, Ribs, Pork Chops, and Sausages
More than 30 Crowd Pleasing Beef recipes like Beef Short Ribs, Marinated Tri-Tips, Juicy Porter House, Prime Rib, Brisket, and Mouthwatering Steaks
More Meat Dishes including Venison, Bison Rump Roast, Lamb Cutlets, Foie Gras, and Frog Legs
Over 30 Gratifying and Inventive Seafood Recipes with Shrimp, Scallops, Lobster and Fish
Perfect Soups and Stews such as Thai Coconut Chicken Curry, Bone Broth, Butternut Squash, etc.
Next Level Side Dishes that will Amaze
Useful From Scratch Sauces and Oils
Even Drinks and Cocktails
And Of Course Fruits and Dessert Dishes that You'll Dream About After Tasting
Don't delay - Get your hands on Sous Vide Mastery: 300 Recipes for the Best in Modern, Low Temperature Cooking right away.