Montreal Cooks: A Tasting Menu from the City's Leading Chefs (Hardcover)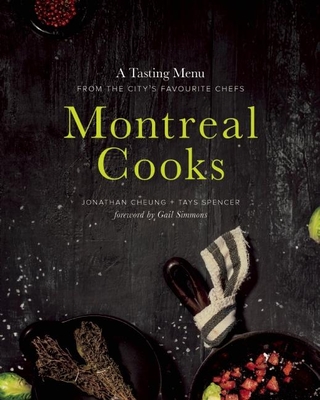 $32.95
Email or call for price.
Description
---
There has never been a more exciting time to eat in Montr al. With the established food scene being joined by an explosion of new, globally minded, locally focused restaurants, Montr al has evolved into a city of unparalleled culinary excellence. Montr al Cooks presents 80 recipes from 40 of Montreal's most talented and unique chefs. Written with the home cook in mind, this cookbook is designed to make recipes from fan-favorite restaurants achievable for everyone. Montr al Cooks is written by Tays Spencer and Jonathan Cheung, owner of Appetite for Books with a foreword by culinary expert, food writer and television personality, Gail Simmons.
About the Author
---
Jonathan Cheung is originally from Vancouver, BC, but currently calls Montreal home. He is the owner and chef of Appetite for Books, Montreal's premier cookbook shop and cooking school. From a very young age, Jonathan has been surrounded by food, whether it was hanging out in his grandmother's kitchen or eating through a number of his family's restaurants in Vancouver and Hong Kong. With over 15 years of professional cooking experience, Jonathan has been featured on Anthony Bourdain's The Layover, Eat St. and CTV Montreal and in the Montreal Gazette and on local radio. He is also a regular presenter on Breakfast Television Montreal. Tays Spencer was born in Montreal and raised on Eastern European cuisine. She has eaten her way across the globe through her extensive travels and her own passion for cooking. Although her career is freelancing as a graphic and interior designer, she has also fallen into the business of food through Jonathan. Tays has co-founded and run a successful food truck business, and she works behind the scenes for Appetite for Books. Her most recent and proud accomplishment is getting their little toddler to eat his greens. Culinary expert, food writer and television personality Gail Simmons lives in New York City.