Hamilton Beach Digital Food Steamer Cookbook (Paperback)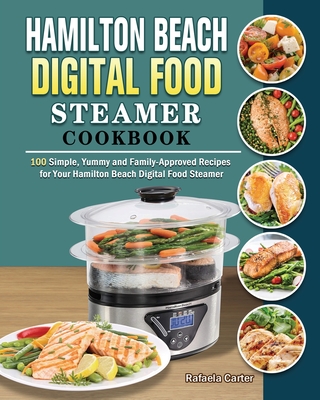 $17.99
Email or call for price.
Description
---
Steaming is an exciting and innovative technique for cooking meals that are both healthy and delicious.
Revealing subtle flavors in your ingredients that are often masked by other fat-heavy preparations, steaming your food will provide you with astonishingly bright, clean-tasting meals, unattainable with any other cooking method. It's also a great way to highlight and preserve the freshness of your ingredients for a broad-range of easy and fulfilling dishes.
Put your Hamilton Beach Digital Food Steamer to use like never before with Cooking with Steam.Just plug it in, add your choice of ingredients, set the timer, and walk away. There's no fussy temperature gauge to monitor, no need to worry about burning your food, and since everything happens inside the steamer, you're free to focus on other tasks while your dinner cooks-it's perfect for today's healthy, on-the-go lifestyle. And last but not least, what's not to love about the simple clean-up? No more scrubbing and scraping at burned saucepans, or overnight-soaking of casserole dishes, just a quick clean of the steamer basket before you get on with your evening.
In this cookbook,100 favorite recipes include:
Panzanella-Stuffed Artichokes with Porcini Mushrooms
Salmon with Quick Basil Oil
Shrimp with Black Beans and Mango
Soy-Orange Marinated Chicken Cutlets
Duck Legs Steamed on a Bed of Thyme
irresistible Bittersweet Chocolate Pudding Cake
Lemon Cheesecake
and more
Get it now and do yourself a big favor