The Ultimate Air Fryer Grill Cookbook for Beginners: Master Guide To Frying, Baking And Grilling The Most Desired Family Meals With Low Cost, Quick An (Paperback)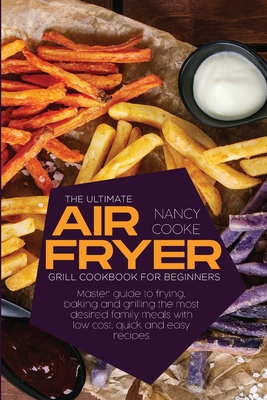 $23.97
Email or call for price.
Description
---
Enjoy tasty homemade fries, chicken wings, and more in your Power XL Air Fryer Grill. The unique design of the Power XL Air Fryer allows for even distribution of heat and air so you can cook your food evenly. The Power XL Air Fryer will also heat to pre-set temperatures. This makes it easy to fry or grill meat, fish, vegetables, and other foods quickly and easily.
You can use the Power XL Air Fryer with healthy cooking oils such as olive oil, coconut oil, and safflower oil. The Power XL Air Fryer also heats food very quickly. You can fry about four chicken wings in just seven minutes or grill about five whole chicken breasts in just fifteen minutes. You will never need to worry about burning your food again
This book covers:
Vegetables & Side Dishes
Snacks & Appetizers
Desserts
30-Day Meal Plan
Tips For Usage, Cleaning And Maintenance
Breakfast Recipes
Poultry Recipes
Beef Recipes
Pork Recipes
Seafood Recipes
Vegetable And Side Recipes
Vegan Recipes
And much more
At Power XL Air Fryer Grill, our main focus is on providing quality products to help you cook better. The Power XL Air Fryer Grill is just one of the features that makes this product so great.
If you are looking for a product that provides durable performance and a sleek design, the Power XL Air Fryer Grill is the perfect product for you. It offers a large capacity of up to 26 pounds and 18 cooking presets to ensure that your food is cooked perfectly every time. It also features push button controls that make it easy to operate.
You will Never Stop Using this Awesome Cookbook
Buy it NOW and get addicted to this amazing book