Air Fryer Grill Cookbook 2021: Discover How Simple and Quick You Can Prepare Juicy, Healthy And Delicious Dishes For The Whole Family To Fry, Grill, (Hardcover)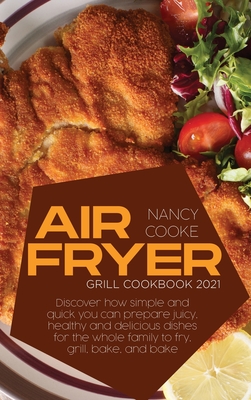 $33.97
Email or call for price.
Description
---
Power XL Air Fryer Grill's Air Fryer Grill cookbook provides your family with timeless recipes that are never going to go out of style.
Don't just settle for any old recipe. Have you tried our "Air Fryer Apple Pie Mince Pies" recipe? Or maybe our "Air Fryer Chocolate Chip Cookies"? Power XL Air Fryer Grill's Air Fryer Grill cookbook has only the best, most tried-and-true recipes in store for you and your family.
Every recipe in the cookbook has been tested to ensure that you get the most perfectly baked treats every time you make them. It's easy to use but packed with flavor.
Order your Power XL Air Fryer Grill Air Fryer Grill cookbook from the convenience of your home today Power XL Air Fryer Grill is proud to be a part of your household, and we're committed to providing you with dependable, quality products - for all of life's greatest moments.
This book covers
Tips For Usage, Cleaning And Maintenance
Appetizer And Snack Recipes
Breakfast Recipes
Poultry Recipes
Beef Recipes
Pork Recipes
Seafood Recipes
Vegetable And Side Recipes
Vegan Recipes
Dessert Recipes
And much more
With the Power XL Air Fryer Grill and the Power XL Air Fryer Grill Cookbook you can enjoy delicious, healthy meals at home. There are many recipes in here that I tried and enjoyed for the first time in my life, plus many of them I shared with my family and friends. The possibilities of what can be cooked in this air fryer are endless. Many people who have purchased this air fryer ask me, "When are you going to make another cookbook?"
You will Never Stop Using this Awesome Cookbook
Buy it NOW and get addicted to this amazing book