Sous Vide Cookbook: Sous Vide Cooking Guide. A Modern Sous Vide Cookbook with Tips and Techniques. Easy and Quick Sous Vide Recipes for th (Hardcover)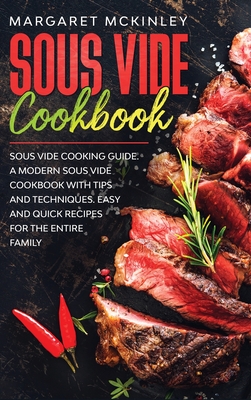 $39.95
Email or call for price.
Description
---
Have you ever wondered which has been a popular cooking technique in restaurants for years?
Sous Vide is a modern technique that will transform your kitchen into a home restaurant.
The Sous Vide Cookbook by Margaret McKinley features the best variety of well-tested recipes you should expect and includes nutrition facts for every recipe.
This Sous Vide cookbook contains the following categories:
What you need to Sous Vide
Sous Vide Accessories
Reason to Sous Vide at Home
Pork, Beef, Chicken Salmon Recipes
Vegetable Recipes
Nutritional Facts
This complete Sous Vide Cookbook will take care of your cooking doubts once and for all.
Your Customers Will Never Stop to Use this Awesome Diet and Cookbook
Buy it NOW and let your customer get addicted to this amazing book