Hydroponics and Greenhouse Gardening: A Complete Guide to Grow Organic Vegetables, Fruits, and Herbs at Home Without Soil Easily. Learn the Best Tecni (Paperback)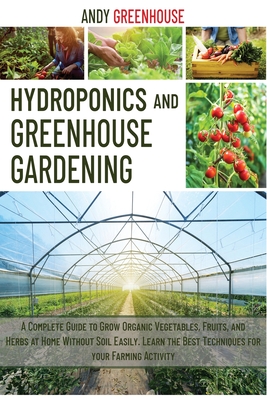 $25.95

Not in Stock... Available to ship in 3-5 days​
Description
---
ARE YOU LOOKING FOR A COMPLETE GUIDE ON VEGETABLE GARDENING? THEN KEEP READING...
Your Customers Will Never Stop to Use this Awesome Gardening Book
Vegetable gardening includes choosing a place, planning the garden, preparing the soil, selecting the plants and seeds, planting a crop, and cultivating the plants until they are ready for harvest. The final result is a new product to consume, share, or market.
Anyone who's willing to spend some time daily to nurture the crops may grow a vegetable garden. It does not take a good deal of cash, time, or ability, though some of each will be useful. With practice and patience, your abilities will improve each year. Do not be discouraged if the first effort is not a massive success.
Growing veggies takes some space, but not always acres. A vegetable garden may be on the ground or within a planting bed, however it does not need to be. Many vegetables can be raised in containers. By way of instance, enough lettuce for a salad could be raised at a 12-inch pot on the backyard. Insert several radishes and carrots, also raised in 12-inch containers, like sweetness and spice, and you get a fantastic start on a yummy salad.
This Book Covers:
Introduction
Greenhouse Gardening
What Is Raised Bed Gardening
Organic Gardening and Companion Planting
What is Hydroponic Gardening
Aeroponics
Container gardening
Introduction to Hydroponics
Advantages and Disadvantages
Types of Hydroponics Systems
Hydroponics vs Aquaponics
Tips to Getting started
Equipment irrigation
Humidity and temperature sensor
And Much More
Success, however, takes more than only somewhere to grow the vegetables. They need sun, water, atmosphere, soil, fertilizer, and maintenance.
Once you have the setup of your new garden under control and done, the basic maintenance such as watering and putting a good organic fertilizer on it should be very quick and easy. A check for any unwanted dinner guest to your vegetables, again, should be a quick job.
In fact, sometimes the evidence of these pests will be staring you in the face. I personally hold no mercy for these critters and head straight away for an organic spray or powder to remedy the situation. I do, however, take great care not to use remedies when my good bugs, such as ladybugs or bees are active during the day. Even if you are growing your fruit and vegetables on high-rise apartment building balconies, chances are the bad bugs will find them. After dealing with the bad bugs you can look forward to eating the fruits that your laborers will give out.
I can assure you that the hardest part will be testing out new recipes to use your delicious results and really, that will translate into a joy rather than a chore. There really is nothing like the feeling of popping down or out to your own garden to pick fresh ingredients for your favorite recipe. Don't be surprised when using the freshest possible ingredients your favorite recipe just got a whole lot better.
If you follow the steps in this book as to the setup of your garden and a few tools to make your life a little safer and easier, you will be able to sit and admire the new life that you have created around you in no time at all.
Buy it NOW and let your customers get addicted to this amazing book