The 21-Day Sirtfood Diet Plan: A Revolutionary Fat-Burning Guide: How to Lose Weight Fast While Eating Chocolate and Drinking Wine (Paperback)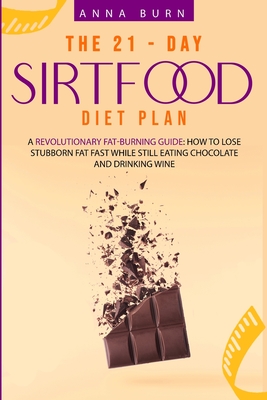 $24.97
Email or call for price.
Description
---
★★ If you are looking for an Effective way to Get Rid of that Stubborn Belly Fat without starving yourself, then keep reading... ★★
⚠ Here's the deal ⚠... You've probably already tried countless diets with the hope of getting rid of that uncomfortable tummy. You were told to eat the same tasteless food every day in order to succeed.
As could be expected, you quickly lost interest, and now you're back to where you started.
So, you are finally ready to lose weight, but you are not sure how. There are several options out there, all touting that they are the best because they will help you to lose weight quickly. Which one do you choose?
You see all sorts of options, but none of them call out. Maybe you've tried Keto, but you missed your fruits and carbs too much.
Maybe you have tried fasting, but you don't want to starve yourself.
Whether you have failed a diet in the past does not have to define your future; you can (and will ) lose weight. ♥
You can learn how you can adequately shed it off so that you will be able to love your body and stay healthier. Perhaps you need a new way of making it work for you.
★ This NEW Diet attempts to emulate the advantages of fasting diets, but without any of the drawbacks. You will be given a simple, healthy way of eating for weight loss, delicious and easy-to-make recipes, and a maintenance plan for prolonged success. The Sirtfood Diet is a diet of inclusion, not exclusion, and sirtfoods are widely available and affordable. It is a diet that encourages you to enjoy eating delicious healthy food while seeing the health and weight-loss benefits. ★
By reading this book, you will learn:
⚠ The N 1 Effective Way ⚠ used by Celebrities to Quickly Build their Goal Physique
The 10+ Healthy foods that will Fire Up your Metabolism
How to Lose ★ Up to 7 Lbs in the First 7 Days ★ while still Eating Chocolate and Drinking Wine
♥ A Structured Meal Plan ♥ to Start Transforming Your Body In LESS than 30 DAYS
The Best 8 Workouts to Maximize Fat Loss In a Short Amount of Time
⚠ And much more ⚠
You are now able to decide to seriously start changing your body and the way people look at it.
★★ You up for it? ★★
Buy this Book to Get Started