Optavia Diet Cookbook for Beginners on a Budget: Lazy, Cheap and Healthy Lean and Green Recipes That Even the Busiest Person Could Make (Paperback)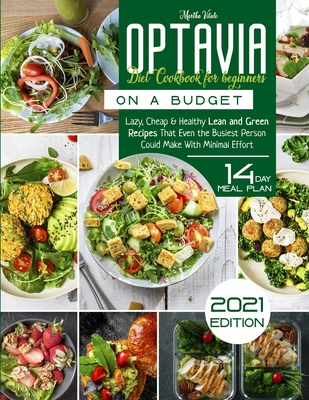 $37.49
Email or call for price.
Description
---
★ Aren't you tired of Feeling Insecure about your body? ★
★ Are you looking for Low Effort and Healthy Recipes that help you Lose Weight without sacrificing taste? ★
If you answered 'Yes' to at least one of these questions, read on...
Martha Vitale is a busy 34-year old working mom of 4-year old twins and the author of this book that will help you into a healthier you. Before her journey to a healthy internal and external disposition, she weighed 270 pounds.
Even if she tried several times to lose weight in the past, she always failed. Ketogenic, Paleo, Mediterranean, Sirtfood...None of them worked. Why?
Because she needed to use much of her free-time cooking meals, thinking about what to eat to match her "appropriate" caloric intake; or going to the grocery store every day to buy fresh products to use. And if you work 9 hours a day and have 2 children waiting for you at home, that can't work for more than a week.
That's why she found her solution in the Optavia Diet.
By combining healthy pre-packaged products with healthy lean and green recipes, this protocol aims to help people lose weight by consuming small amounts of calories throughout the day.
⚠ Even if you are the busiest person in the world, DON'T WORRY. This program has been taught for YOU ⚠
Use the recipes in this book to make Super Quick meals that taste AMAZING and enjoy your new free time with your family
In this Cookbook, You Will Find
6 Foods that prevent you from having the Fit & Healthy Body you've always dreamed of
An Effective Time-Saving Meal Plan to jumpstart your weight loss journey
Energizing Breakfast Recipes to Kickstart Your Day
Delicious Vegan/Vegetarian Dishes to Be Healthier
Yummy but Healthy Desserts and Snacks to Stop Sugar Cravings on bad days
...And Much more
★ Are determined about starting a journey that will make you HEALTHY AND BEAUTIFUL? ★
Grab your copy NOW and start living a more fit, happy, and fulfilling life