Kiftsgate Court Gardens: Three Generations of Women Gardeners (Hardcover)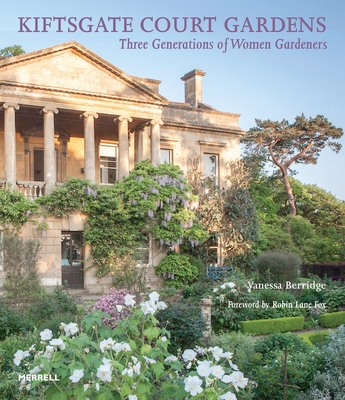 $69.95
Email or call for price.
Description
---
Kiftsgate Court, perched on the northern edge of the Cotswolds Hills in Gloucestershire, is a garden composed of many different scenes. Some elements - the bluebell wood, the clipped hedging and the rose border, with its famously huge Kiftsgate rose - are traditionally English, but there are also areas of Italianate planting and terracing, and others where a mixture of perennials, roses and rare and exotic shrubs thrive side by side.
Equally remarkable is the fine balance between continuity and gentle evolution that the visitor finds at Kiftsgate. This is largely because the garden has belonged to the same family since its creation 100 years ago. Three women have tended Kiftsgate, each one its driving force for a third of a century, and each building on the legacy of the previous generation. In 1919 Heather Muir and her husband, Jack, bought the house, which stands on a relatively narrow plateau from which a bank plunges 100 feet. Heather gave Kiftsgate its structure, laying out the semi-formal gardens by the house, planting the tapestry hedge and rose garden, and terracing the banks. In 1954 Heather was succeeded by her daughter, Diany Binny, who extended and developed her mother's planting, made more borders and paths, and refashioned the White Sunk Garden. Since the late 1980s Diany's daughter, Anne Chambers, has been at the helm, further modernizing the garden and its planting, creating new areas of interest, and opening more often to the public. As Robin Lane Fox, who has written the foreword, comments: 'There is nowhere else in Britain that has such a family tradition of planting and dedication ... It is intimate but many-sided, evolving but with roots in a remarkable past.'
This beautiful new book - the first dedicated to Kiftsgate - is structured in two main parts. For the first, 'The History', Vanessa Berridge has had exclusive access to the Kiftsgate archive, which contains not only family photographs but also letters from their gardening friends, helping us to understand why and how Heather, Diany and Anne have gardened. Among the circle of friends and acquaintances who feature are Lawrence Johnston of Hidcote Manor (Kiftsgate's neighbour); Vita Sackville-West, the creator of Sissinghurst Castle Garden; and the horticulturalist Graham Stuart Thomas, gardens adviser to the National Trust.
The second part of the book takes the reader on an extended tour of the garden, illustrated by the glorious photography of Sabina R ber. The tour concludes with notes on Kiftsgate's signature plants and Anne Chambers's personal reflections on this, one of the great gardens of England.