The Essential Air Fryer Cookbook for Two: Perfectly Portioned Recipes for Healthier Fried Favorites (Hardcover)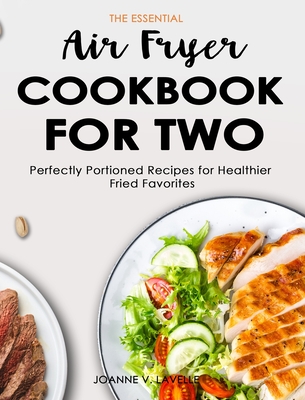 $23.99
Email or call for price.
Description
---
Are you looking for a Complete, Easy-to-Follow, and Colorful Air fryer cookbook? Recipes Even for One and Two?
Are you tired of complicated instructions?...
Keep Reading...
This cookbook is going to be your torchbearer. It will guide you into understanding and mastering how the air fryer works, tips and tricks of using the air fryer oven.
The Essential Air Fryer Cookbook for Two includes:
An intro to air frying―Get essential guidance that will set you up for air frying success, including step-by-step instructions, answers to FAQs, and pointers for cooking for two people.
Recipe tips and tricks―Find suggestions for getting the most out of each recipe in this air fryer cookbook, from ingredient swaps to air frying tips.
Practical guidance―Learn the best and worst foods for air frying, what ingredients to stock your pantry with, and how to shop and meal prep for two.
In The Essential Air Fryer Cookbook for Two, You will get the secrets to making the most of your Air Fryer even starting from ZERO experience, and YOU WILL NOT FEEL GUILTY for having forgotten it in an unused corner of the kitchen. It won't happen
Make perfectly portioned air-fried meals for two with these easy recipes now