Rapid Weight Loss Hypnosis For Women: A Survival Guide To The Natural Guided Remedies For Women To Get Lean Quickly With Self-Hypnosis, Meditation (Paperback)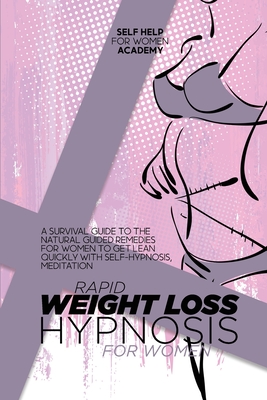 $23.97

Not in Stock... Available to ship in 3-5 days​
Description
---
Are you tired of always struggling to lose weight only to gain it back within a week? If so, then keep reading...
Weight loss hypnosis is a process that includes guided relaxation combined with instructions to develop new ways of eating and moving. It may be helpful for those who are struggling to lose weight by helping them manage cravings or emotional eating. It can also help people to learn better, healthier habits that will continue to support weight loss long after the session is over.
This book covers:
- How Does the Mind Work?
- What is Hypnosis?
- What is Self-Hypnosis?
- Hypnosis and Weight Loss
- The Power of Guided Meditation
- The Power of Affirmations
- How to Use Meditation and Affirmations to Lose Weight
- Guided Meditation for Weight Loss
- Repetition of a Mantra
And much more
As you relax and let your mind wander, the hypnotist tells you soothing words and phrases as they open your mind up for new ideas. They may give suggestions about reducing food portions or using spices that might have previously tasted healthy but are now contributing to unhealthy choices in a person's diet. The hypnotist's suggestions and guidance may take the person to see food as a fuel source and not a treat. The hypnotist may also give suggestions about moving at a slower pace, building up strength in the muscles with each step instead of taking lots of short strides or brisk walks. They may encourage you to take your time with each activity such as going for a walk or reading, making it more rewarding.
You will Never Stop Using this Awesome Book
Buy it NOW and get addicted to this amazing book