Vegan Cookbook Delicious Recipes for your Body. Complete Cookbook for Beginners. Quick and Easy (Paperback)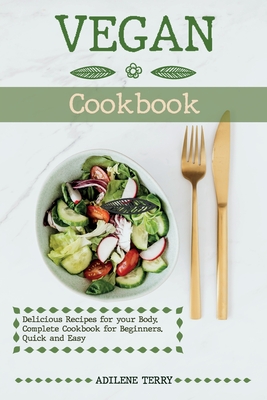 $26.95
Email or call for price.
Description
---
★ 55% OFF for Bookstores NOW at $26.95 instead of $39.95★
Vegan will make your diet as easy as eating your favorite treat.
Adilene Terry decodes and demystifies vegan cooking so you can reap its many benefits. Avoid the pitfalls of bland food, lack of variety, and overprocessed ingredients with approachable, fresh, vibrant recipes.
No more cheat days, now you have a deliciously easy way to calm your cravings while staying withing your carbs limit.
Can vegan cooking be flavorful? Satisfying? Easy to make?
Through rigorous testing on the science of vegan cooking, Adilene Terry addresses these questions head-on, finding great-tasting and filling vegan protein options, cooking without dairy, preparing different whole grains and vegetables, and even baking.
Reimagine mealtime by celebrating vegetables at the center of the plate and in salads and grain bowls.
This cookbook has something satisfying for everyone the committed vegan or simply those looking to freshen up their cooking.
Buy it NOW and let your customers get addicted to this amazing book