Complete Electric Smoker Recipes: Easy-To-Follow, Delicious Electric Smoker Recipes That Will Impress Your Family And Friends At Your Barbecue Parties (Hardcover)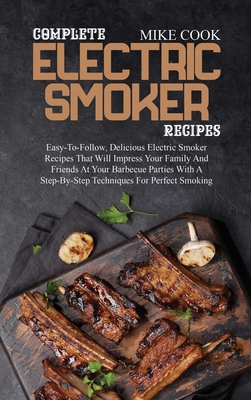 $37.97
Email or call for price.
Description
---
Do you love the smoky taste of BBQ smoked meats, but you live in a city apartment with no access to outdoor grill space? If so, then keep rading...
Your Customers Will Never Stop To Use This Amazing Guide
Electric smokers are a relatively new product in the barbecue world. An electric smoker is a type of barbeque that uses electricity instead of wood or charcoal to heat food before cooking. Electric smokers were developed as an alternative to traditional barbeques because they require much less physical labor during preparation and produce minimal smoke. Today, electric smokers are very popular among grill chefs and home cooks alike.
The first electric smoker was developed by George Stephen in the 1920s for use in his restaurant, The Silver Spur. The original electric smoker had a few drawbacks that made it less desirable; it took up a lot of room and required hand cranking to heat and cool down the grill bed. It also cooled down at different rates than other grills, which could freeze food. These issues were subsequently addressed through the development of modern-day electric smokers.
This book covers:
- The Basics of Electric Smoking
- Getting the Best Out of Your Electric Smoker
- Brines, Marinades, and Rubs
- Delicious Smoked Poultry Recipes
- Smoked Beef Recipes
- Smoked Pork
- Lamb Recipes
- Smoked Sea Food
- Snacks
And much more
The modern-day electric smoker is significantly smaller than its predecessors and can be utilized as either a portable or stationary barbecue. They can be powered by electricity or propane.
Buy it NOW and let your customers get addicted to this amazing book