Doctor Sebi Guide for Beginners: 3 Books in 1: Ultimate Bundle about Doctor Sebi's teaching and cookbook (Paperback)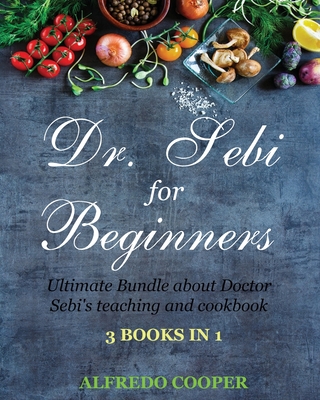 $36.97
Email or call for price.
Description
---
Your customers will never stop to use this awesome book
Have you ever heard about Dr. Sebi and his amazing diet? Do you want to lose weight and improve your health?
Keep reading to discover more about it
Dr. Sebi is a self-taught African American herbalist, naturopathic doctor, and healer born and raised in Jamaica. He has healed many people worldwide with his natural herbal remedies and raw vegan diet plan known as the "Sebi Diet."
Dr. Sebi explains the importance of using raw vegan foods and how your body requires 50% of its energy levels to digest cooked food, so it's a definite must to become raw vegan when you follow his diet plan. Also, raw vegan foods are very rich in enzymes which are necessary for a strong immune system.
Another important element of this diet is "Detox Baths." They consist of various herbs that are soaked in baking soda and hot water, then poured into a bathtub and taken daily to help cleanse your internal organs. The detox baths can be purchased at most health food stores or made at home.
The present book will help you discover more about Dr. Sebi diet, all its benefits, and how to start it.
This manual covers:
Dr. Sebi and His diet
Benefits of the Dr. Sebi Diet
Detox
Fasting
How Toxic Foods Increase The Risk Of Disease
Dr. Sebi Diet Recipes
...And so much more
Dr. Sebi is a true healer of our time who has done wonders for thousands of people worldwide with his natural holistic treatments and raw vegan diet plan that is considered by many to be a miracle cure from the so-called deadliest disease known to man: cancer
So, what are you waiting for?
Buy it NOW and let your customers get addicted to this amazing Book