Vegetable Gardening for Beginners: Discover How To Plan, Build And Mantain Your Organic Vegetable Garden In A Perfect Way. (Hardcover)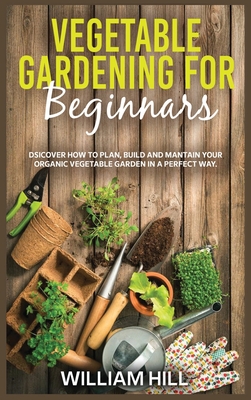 $28.99
Email or call for price.
Description
---
55% DISCOUNT for BOOKSTORES
Do you love the taste and health benefits of fresh garden-raised vegetables? Do you dream of growing your vegetables but don't know how to get started?
If yes, then you should not miss this book
Fresh vegetables harvested from a garden are one of life's simplest pleasures. The taste of summer in every delicious bite cannot be duplicated. The joy of walking outside and picking a few tomatoes from your garden to enjoy for dinner never loses its appeal.
Before big supermarkets appeared on every corner and food was produced in one state and shipped to the others, there were vegetable gardens.
In this book, you will learn that everyone can enjoy the sublime pleasure of raising fresh vegetables and can have a garden anywhere from the city to the country.
Among the topics you'll find in the book are:
- How To Plan And Design Your Garden
- Types Of Garden
- Essential Garden Tools
- Growing Herbs And Vegetables
- Maintaining Your Vegetable Garden
- Organic Pest And Disease Management
- Harvesting, Storing And Preserving Vegetables
- And much moreee...
By reading this guide, you will find resourceful and reliable information on how to start your home gardening. With it, you will find the experience thrilling and enjoyable.
What are you waiting for? Scroll up and click the BUY NOW button