Traditional German Food: The ultimate cookbook guide to Learn Quick and easy cooking skills, Tasty and Delicious Dutch Recipes from beginners t (Hardcover)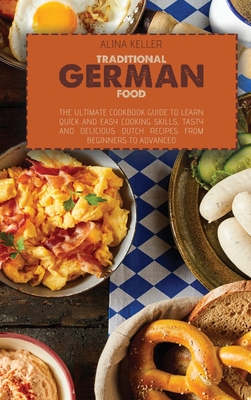 $31.97
Email or call for price.
Description
---
Do You want to know how to prepare german foods from scratch?
Your Customers Will Never Stop To Use This Amazing Cookbook
German cooking cannot be defined in one word. It is diverse, colorful and healthy too. They make simple, wholesome meals that are usually a mix between vegetables and any type of meat, poultry and fish. Plus, the Germans make sure to never waste any part of any food
So, in this TRADITIONAL GERMAN FOOD COOKBOOK I present a collection of delectable German food recipes made from scratch and all are traditional grandmother recipes.
Meals in Germany tend to be hearty, and food features prominently in the many celebrations and festivals in the country, including Christmas and Oktoberfest - an autumn celebration that lasts for two weeks
Looking for dive into German cuisine but are too intimidated to give it a try? Fret not With the help of this recipe book, you'll be able to put up Classic German dishes that are easy to make and taste oh so delicious
However, this book shares only authentic German recipes. We love to celebrate culture through food, and we wanted to share with you what the German people really eat.
The collection includes recipes for all times of the day, so choose what you like and experiment these specialties right at home.
This book covers:
- Streuselkuchen
- (Crumb Cake)
- Surbraten (Corned Pork)
- Suss-Saures Kartoffelgemuse (Sweet-And-Sour Potatoes)
- Thueringer Kloesse
- Tomatensalat
- (Tomato Salad)
- Topfenkuchen
- Veal Breast With Herb Stuffing
- (Damson Plum Tart)
- Zwetschgendatschi
- Zwiebelkuchen
- (Onion Pie)
And much more
German recipes are very hearty and family oriented meals as it is time for the entire family to sit around a table and exchange news, build relationships and all this is done around a comforting meal. So, old mamas make sure that each and every mouthful of food is tasty and filled with love.
Buy it NOW and let your customers get addicted to this amazing book