German Recipes for Everyone: Learn How to lose weight fast while eating the Most Incredible Dutch Recipes, include a detailed process to enjoy food (Hardcover)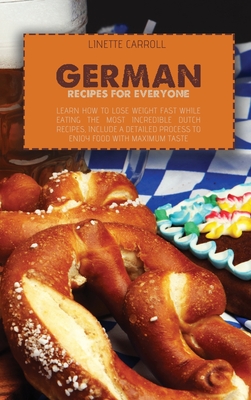 $31.97
Email or call for price.
Description
---
Are you planning to visit Germany and enjoy traditional German Recipes?
Your Customers Will Never Stop To Use This Amazing Cookbook
Germany's regional cuisines differ according to their geography and their closeness to waterways because it is where usually transportation and trade historically took place.
If you love the taste of authentic German food, then GERMAN RECIPES FOR EVERYONE
Is surely the perfect book for you.Inside this book, not only will you find over of the most delicious recipes that you will find today, but you will learn for yourself how easy it is to make authentic German recipes from scratch.
But nowadays, even though Germans still fall back on their rich tradition serving meat like beef, pork and lamb with their old and new ways of preparing them. You may find some modern German chefs that have started to create newer, lighter and healthier meals that still incorporate traditional foods into their menus to help them live a healthy lifestyle without having to be deprived by delicious.
This book covers:
- Kalbsbries Imperial (Sweetbreads with Paprika Sauce)
- Kalbsbrust Mit Krauterfullung
- Kalbsschnitzel Mit Feinen Gemusen (Veal Round)
- Kalbsschnitzel Mit Joghurt
- Kalter Kartoffelsalat (Cold Potato Salad)
- Kapernschnitzel (Veal Cutlets with Capers)
- Kirsch-Schnitzel (Veal Cutlets with Cherry Sauce)
- Klossel Suppe (Dumpling Soup)
- Klossel Und Sauerkraut (Dumplings and Sauerkraut)
- Marinated Potato Salad
- Marinierte Toamten (Marinated Tomatoes)
- Marzipan (Candies)
- Meat and Cabbage (Old German Recipe)
- Mohn Kuchen
- Mohren
- Mohren Mit Geschnetzeltern
- Mojhy Apples
- Mom's German Meatballs
And much more
And that's what this cook book is all about, by helping you prepare nutritious meals from breakfast, appetizers and main dish meals that would help you become healthier without having to sacrifice a good and delicious meal. Hope you enjoy
Buy it NOW and let your customers get addicted to this amazing book