COGNITIVE BEHAVIORAL THERAPY Heal your Mind and Manage your Emotions 3 BOOKS IN 1 CBT Made Simple for your Mental Health, Addiction and Trauma Recover (Paperback)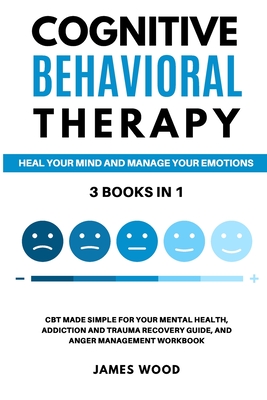 $37.49

Not in Stock... Available to ship in 3-5 days​
Description
---
● Feeling lost about how to treat disturbing intrusive thoughts?
● Has trauma and anxiety held you back for long?
● Would you like to eliminate all the negative emotions and anxiety that keep you up during the night?
● Do you wanna say goodbye to the hell you're in?
● Have you been struggling with anger issues?
If your customers would answer "yes" to these questions, they will never stop reading this awesome book
To achieve the relationship, career, and lifestyle of your dreams, you need to understand how the human mind really works. That's where Cognitive Behavioral Therapy (CBT) comes in. It's a simple but brilliant approach that will show you exactly how your thoughts rule your life.
Increasingly popular among healthcare professionals, the CBT approach can be used by anyone to overcome common problems ranging from depression or anxiety to more complex disorders like OCD, PTSD and addiction. CBT can also be used to simply develop a healthier, more productive outlook on life.
During the course of this book, we will take a brief look at the current knowledge surrounding the subject, before exploring how you can vastly improve yourself with a series of examples and practical exercises.
This book includes 3 manuscripts:
Manuscript 1: COGNITIVE BEHAVIORAL THERAPY
● The intricate relationship between your thoughts, emotions, and behaviors
● What Cognitive Behavioral Therapy is and what kind of issues it can understand
● Proven ways to harness the power of CBT to get rid of your eating disorder and toxic relationship with food
● The most popular breathing techniques for relaxation.
● How to improve your awareness, develop your mindfulness and maintain a positive mental space
● Proven, amazing, and viable techniques for defeating snags that permit you to keep away from a backslide into poor psychological well-being
Manuscript 2: ADDICTION RECOVERY THERAPY
● How to instantly quit or control your addictive behavior and to find peace & clarity in a cooling-off period
● Set your own goals and make a plan to achieve them at your own pace.
● How to understand your addiction with provoking thoughts and self-talk
● Build coping skills so that the future is better than the past.
● How to feel secure and self-confident enough to deal with life problems and how to create a meaningful life beyond your addiction
● Choose the best treatment plan
Manuscript 3: ANGER MANAGEMENT WORKBOOK
● How to make positive life changes
● What happens to your mind and body when you get angry
● Invaluable information and assessments to help evaluate your anger
● How to discern good anger from bad anger
● How to understand yourself better
● Concrete examples of productively expressing anger
● How to boost your emotional intelligence and compassion
And these are only a few of the topics...
Do you need more? Do you think that reading some books won't be the solution to your problems?
Don't worry about that We took care of this too
In fact, this guide provides many concrete examples and practical exercises to train you to put into practice every skill you will acquire.
Knowing yourself and mastering your mind takes a lifetime. The return of investment, however, to put it mildly, will be priceless.
What are you waiting for?
This is the occasion to improve your life as you've never done
Buy it NOW and let your customers get addicted to this amazing book