The Delicious Bread Baking for Beginners: A Guide to Making Delicious, Simple and Quick Homemade Bread Baking Step-by-Step Recipes (Hardcover)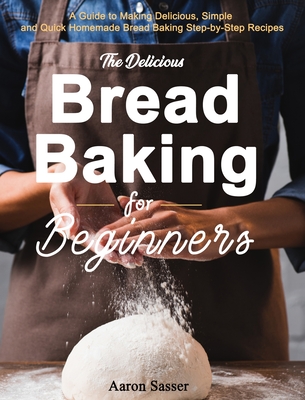 $26.99
Email or call for price.
Description
---
Bread recipes from this book are perfect for every day and for holidays.
Baking a perfect loaf of bread is part science and part magic. Created from four simple ingredients of flour, yeast, water, and salt, breadmaking is one of the most difficult (and delicious) baking endeavors. Bread Baking for Beginners is a rare bread cookbook for true beginners to keep their bread baking on the rise.
It's time to bake perfect breads with the help of Bread baking for beginners and discover the magic behind flour, water, salt, and yeast.
Recipes include these types of bread:
Whole-Wheat Bread
Multi-Grain Bread
Quinoa Bread
Molasses Oat Bread
Sesame Seed Bread
Sourdough Bread
Dark Rye Bread
Cream Cheese Bread
Cinnamon Swirl Bread
And Much More...
Bread Baking for Beginners will be your perfect guide to make all kinds of bread without any great effort. Your friends and family members will be in love with your baking skills.
So, what are you waiting for?