Instant Pot Duo Crisp Air Fryer Cookbook 2021: Crispy, Easy, Healthy, Fast & Fresh Recipes To Easily Surprise Your Family Every Day (Hardcover)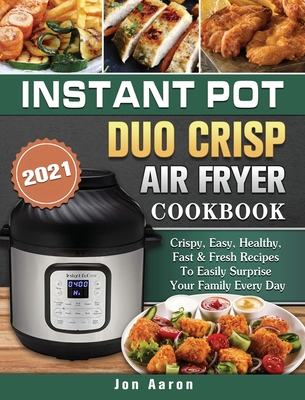 $23.88
Email or call for price.
Description
---
Easy Instant Pot Air Fryer Recipes for Delicious Crispy Meals
Crunchy and easy recipes for healthier meals
With few lid twists, some ingredients and an pressure cooker and air fryer crisp, you are ready to prepare mouthwaring and tasty fried foods, to enjoy and have fun
This cookbook is a one-stop solution to all your answers regarding the instant pot air fryer and duo crisp. I am an avid user of such new-age kitchen appliances that arrive in the market. Such appliances make everyday cooking a pleasurable experience and also assure that you have to put in a minimum amount of work. Furthermore, you will get to know about various other aspects of the instant pot.
What can you get from the book?
1000 recipes to cater to every taste on any occasion
A complete guide to get the most out of your instant pot duo crisp air fryer
Quick breakfast recipes to start the day off right
Soups and salads that make perfect lunches
Effortless appetizers, snacks, and beverages
Hearty dinners that don't take all day to prepare
Seafood specialties
Decadent yet healthy dessert
Affordable, Easy and Fresh Instant Pot Air Fryer Crisp Recipes
that Anyone Can Cook
This cookbook will take your kitchen skills to a whole new level. This tasty collection of healthy recipes will make you proficient in Instant Pot air fryer crisp cooking.
What are you waiting for? It's time to discover new ways to take your meals to the next level.