Mexican Keto Cookbook: Add Some Hot Spice to Your Diet and You'll Lose Weight Fast with These 50 Easy-To-Make Mexican Keto Recipes (Hardcover)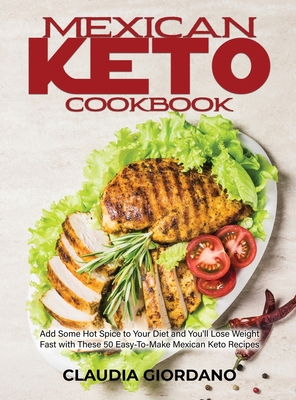 $32.97
Email or call for price.
Description
---
Do you like Mexican cuisine and its spicy dishes? And you also want to lose weight effectively.Fats are essential in a keto diet, they make up 75% of the diet. Then we have 20% protein. And finally we have carbohydrates, 5% of the total mass of the products.
So in our diet we will have fish, meat, seafood, eggs, dairy products, avocados and nuts, all of which are high in fat.
What about carbohydrates? Since they are the body's main source of energy, when we decrease their quantity, our body begins to process fats.
In this book, you'll learn to love Mexican cuisine and indulge in its renowned spicy dishes, but you'll lose weight quickly.
Mexican cuisine is blessed to be incredibly varied and tasty. The recipes in this book are so detailed that even beginners can prepare them.
The recipe includes:
detailed description
nutritional values
ingredients to use
detailed cooking instructions
and much more
... and much more
With this low-carb Mexican ketogenic cookbook, you can indulge in the flavor of your favorite Mexican foods while enjoying many health benefits from weight loss.
Buy it Now and get addicted to this amazing book