The Wholesome Air Fryer Cookbook [4 books in 1]: Hundreds of Flavorful Choices for Every Time of the Day. Fine Dine, Live Free from Hunger and Save Yo (Paperback)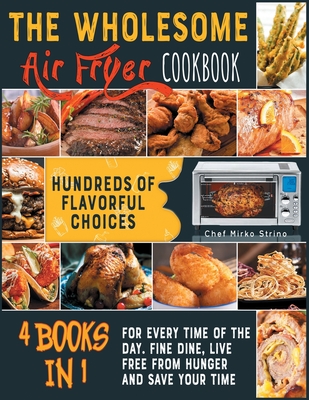 $53.99
Email or call for price.
Description
---
"55% OFF for Bookstores Discounted Retail Price NOW "
Are your customers looking for a mind-blowing way to cook tens of keto-vegan fried recipes?
Do you want to make sure that by buying just one book they will come back to buy again and again?
Then, You Need This Bundle in Your Library and... Your Customers Will Never Stop to Use and Gift It
? - WHY THIS BOOK CAN HELP YOUR CUSTOMERS
When you're cooking effortlessly, you brim with confidence and are ready to take on the world
Air fried foods are a healthier alternative to traditionally fried foods, offering tons of scientifically proven health benefits, such as improving your appetite, cholesterol, blood pressure and reversing diabetes. Rest assured, your customer, will learn how to master his Air Fryer in no time and stress-free
Inside this smart cookbook, your customer will discover a variety of flavorful ketogenic & vegan recipes and a wonderful selection of traditional, modern and alternative recipes to suit any taste, palate and age.
Your customers will find:
 Why Air Fryer is the best alternative to traditionally fried foods
 Tens of mouth-watering Keto Air Fryer Recipes
 Tens of high-protein Vegan Fried Recipes
 Tens of Gourmet Recipes to Enjoy with Family and Friends
 Affordable ingredients
 High-quality pictures and instructions
Click the "BUY NOW" Button, Buy THOUSANDS of Copies, and Let Your Customers Rob Your Library