Camping Cookbook For Beginners: Pro Tips To Finally Discover How To Prepare Quick, Easy, Delicious And Healthy Recipes On Your Camping Trip With Your (Hardcover)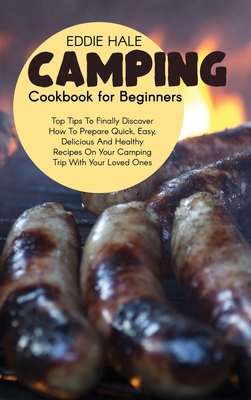 $31.97
Email or call for price.
Description
---
Do you want to know everything about camping cooking?
Your Customers Will Never Stop To Use This Amazing Cookbook
When cooking food while on a trip and camping, then there are many things that pop up in your mind. The negatives that immediately comes up in your mind are that you will have to eat the tasteless and canned food items, you will not be able to enjoy the food which you eat and hence get bored. However, if you have a certain skill set about camping along with cooking, then you can make your trip worthy of all the efforts and difficulties that you face while on a camping trip.
Cooking while camping makes your trip even more memorable and adventurous. With the advancement of time, there are numerous shortcuts and ease to do things while camping. The equipment for it is easy to carry around, and you can have your food prepared in no time. There are various options for cooking methods, as well. You can enjoy snacks, beverages, main meals, and even breakfast when you wake up early in the morning. You can have all the things packed easily, even if you are backpacking or preparing for camping.
Anytime one can go out for a camping trip, it does not matter whether it is a short weekend or an extended summer vacation that initially seems to be never-ending, but it feels they never existed when it ends. In this contemporary world, where time is running like a fast-blowing wind, it is advised to make out some time for oneself to unveil the hidden pleasures of nature's beauty. Likewise, camping is one of the most adventurous ways of enjoying nature's beauty, during which one can get pleasure under the sun and during serene nights when the sky glows with stars and moonlight.
However, there is one thing which must be given heed during camping without which the purpose of camping will remain unattainable, and that is good food. Maybe the air, the scent inside woods or the sound of leaves, rushing streams, or that of birds at the site, whatever or wherever these are, the food that is cooked and eaten out the door has its irreplaceable joy and pleasure.
Camping offers a rare place for the inner kid to connect, reigniting the creative spirit broken down by the daily grind. And children excel on a holiday's liberty and adventures where the daily schedule is thrown aside, and no one nags them about personal hygiene. It's also an extraordinary chance to give them a few little responsibilities, which the independence they will enjoy will richly award them.
The recipes provided for this book take the theme of basic outside grilling up a notch to the classic grilled dish with simple variations. You will be trying to revamp your camp cooking style with just a little seasoning and excitement, and your campmates will praise you for it. Camping is a time for friends and family to rest and communicate while also hooking up with the natural world, so it should be easy to cook. A perfect way to get beautiful layers of taste without a lot of effort is to pop stuff on the grill, and the aroma of those creations wafting through the air only adds a unique kind of fragrance, especially over an open flame in the evening.
This book covers:
An overview about camping
The number of people
Places of camping
Activities for entertainment
Environment
Some healthy benefits of camping
Types of camping
Safety guidance and instruction
Advised packing list
Some amazing hacks for camping
And much more
Buy it NOW and let your customers get addicted to this amazing book