Camping Cookbook: A Simple Guide To Everything You Need To Know About Camping With Delicious Recipes To Make Your Camping Experience Hea (Hardcover)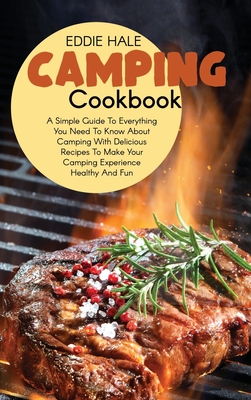 $31.97
Email or call for price.
Description
---
Do you want to know how to cook outdoors the best camping recipes?
Your Customers Will Never Stop To Use This Amazing Cookbook
While you are on a camping adventure, you will always find it difficult to get delicious and yummy food. Most of the time, you have to bear with the boring and dull canned food products, which are also tasteless. With some cooking skills and the availability of all the needed equipment, you can have delicious and healthy food even when you are camping.
With a bit of creativity and innovation, you can have all sorts of food at the camping site. There is a wide variety of methods to prepare food while camping. You will never get bored with the food that you treat yourself to because it has an infinite number of options from which you can have whatever you like and is easy to prepare.
The basic things you should know for perfecting the camp cooking is to know how to use all the equipment and what are the essentials for the cooking, how can you start fire effectively? With all this knowledge, make your camping trip fun and adventurous.
The camping trip is meant to reconnect to your loved ones, reconnect to the world of beauty you have forgotten because of your busy routine. So, take time out for yourself and your loved ones, go out and explore nature, refresh yourself and your relationships, and bring peace to your mind and body.
This book will help you to plan and organize your camping trip most efficiently. This guidebook will be a good companion helping you, guiding you throughout your journey from planning to packing, selecting a place, things to carry along, and most importantly, the meal that you are going to have there because it has a whole list of easy and healthy recipes enclosed for you when you are sitting under the open sky watching the beautiful sceneries of nature.
Camping is a great adventure, but regardless of what you choose to cook on your trip, it is important to note that cooking at a campsite needs more patience, ingenuity, and time compared to cooking at home, where you can control the temperature of the stove.
My hope is that within the pages of this book, you will discover a new and delicious way to treat yourself-along with your friends and family-to mouthwatering campsite meals.
This book covers:
Camping a healthy practice
Camping Essentials
Breakfast recipes
Lunch recipes
Dinner recipes
And much more
Buy it NOW and let your customers get addicted to this amazing book