Copycat Recipes - Olive Garden's: A Copycat Cookbook of tasty recipes from the popular Olive Garden's restaurant. From appetizers to drinks with easy- (Hardcover)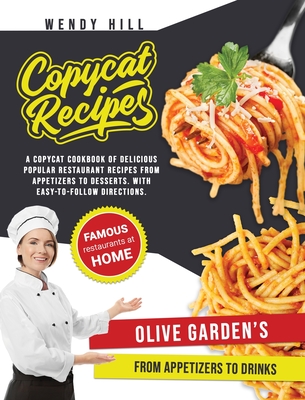 $36.99
Email or call for price.
Description
---
55% discount for bookstores
Your customers will enjoy cooking dishes from their favorite restaurants
Are you looking for a cookbook that contains hand-picked recipes inspired by popular dishes from your favorite restaurants?
Then you've come to the right place
These recipes give you a few tips and tricks on how to recreate your favorite restaurant dishes at home. The recipes in this book are more of a guide; at the end of this journey, you will be able to choose how to taste your next meal and how best to prepare it. The underlying idea behind this book was to mainly help you understand the fundamental constituents that make unique restaurant recipes like Apple Bee's Grill & Bar...
From Appetizers To Drinks
You will learn how to cook your favourite recipes for you, your children, your friends.
Imagine the themed lunches and dinners you can make, bringing tasty dishes to the table.
Breackfast
Mains
Appetizers
Snacks
Sauces
Soups
Salads
Desserts
Drinks
You can enjoy the convenience of creating copycat recipes in the comfort of your kitchen while satisfying your cravings of dishes from your favorite restaurant. It will be gratifying and exciting.
Cooking at home, you can control portions, save money and time, and you customize every meal.
The ingredients for these recipes are easy to find. Don't you like a particular vegetable or the level of spice? Just change them
Moreover, food in restaurants includes more salt, more fat, and more sugar then what we should eat in our diet.
You 're going to see step-by-step directions for those beautiful dishes that draw people to bars, and you're going to make sure the food is cooked under sterile conditions because you're going to make it.
You don't have to become a master chef to make those foods.
Each recipe contains all the necessary information... and more
Description
No. of persons
Preparation Time
Cooking Time
Ingredients
Directions
And to monitor your diet:
Calories
Fat
Carb
Fiber
Sugar
Protein
I mean, everything you need to turn your house into a famous restaurant
Let's create some magic into the kitchen and add the flavor. Start making your culinary experience extraordinary and make some delicious recipes to impress your loved ones.
This is no ordinary cookbook, but it's an amazing toolthat your kitchen-loving customers will love.
Don't let it pass you by Buy Now