Social Skills- Improve Self-Esteem and Nonverbal Communication by Managing Shyness and Social Anxiety for Happier Relationships: Gain Self-Confidence, (Paperback)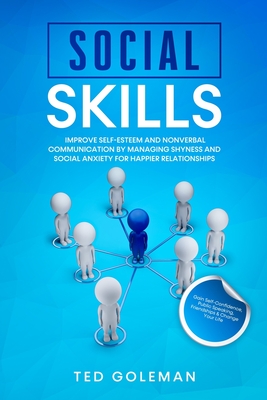 $22.97

Not in Stock... Available to ship in 3-5 days​
Description
---
Does having social skills help in life?
Who do you think speaks wonderfully?
You might pick those who look clever or those who frequently recite in class. You might believe that these individuals are, in fact, more confident than you think they are. Or possibly, they are born speakers, and you are not.
Well, it might amaze you that they're most likely believing the exact same thing about you They might additionally feel that you are a born speaker and envy you since they have fears in public speaking. Some might have special interests in public speaking; however, many people do not know anything about it.
However, you might, in fact, be an excellent speaker without recognizing it. It pays to discover by really doing it and by seeing yourself doing it. You might be much like this student throughout his initial speech in class.
Some individuals are born speakers. The majority are not. Thus, you are not alone when you state that you do not delight in making speeches and speaking in front of a big audience. Stage fright is unavoidable. Stars are constantly worried to a certain degree prior to every play.
Possibly you believe your career does not involve public speaking. Well, this is where you're wrong since no matter what your job is, public speaking eventually is going to enter into the picture in some ways.
No matter how interested and experienced we might be in public speaking, stress and anxiety can not be stayed away from. We experience it, specifically as the day of the speech gets nearer. We begin to ask questions that make our stomachs churn. For instance: Will the audience like me? Will my mind go blank when I start to speak? Have I prepared properly?
If we want individuals to believe us when we speak, if we wish to enhance the impressions we make, we want to increase our self-confidence. This chapter is going to provide you with some pointers on how to handle speech anxiety to deliver more confident and professional deliveries.
People who confidently express themselves are deemed more proficient. They additionally produce a better impression throughout job interviews and are more probable to be promoted than anxious individuals.
This book gives a comprehensive guide on the following:
- How to know, evaluate and enhance your skills to improve self-esteem
- Non-verbal communication
- Communication
- Recognize social anxiety and shyness
- Self-confidence and self-love
- Exercises you can do to improve your social skills
- Conversation and tips for improving conversation
- How social interactions can affect to create new friendships
- Meeting people......AND MORE
Your Costumers Will Never Stop to Use this Awesome book