Copycat Recipes: Chinese Cookbook for Beginners with 130 Tasty and Classic Recipes to Make at Home (Hardcover)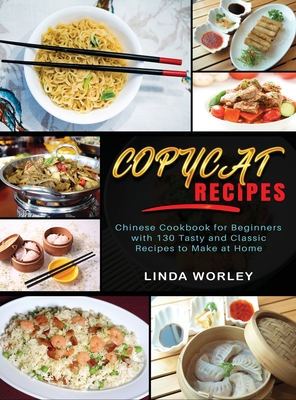 $29.95
Email or call for price.
Description
---
Would you like to eat the best Chinese food without going to a restaurant?
Are you a Chinese food lover who wants to learn how to cook some of the most delicious recipes of Chinese cuisine?
If "Yes", then keep reading...
With this cookbook you will discover 130 Chinese dishes so tasty and easy to prepare, you'll never need takeout again.
Your favorite Asian-American restaurants combined traditional cooking styles with everyday supermarket ingredients to prepare flavorful dishes at home on a budget.
You can recreate popular signature dishes with this copycat recipes cookbook. It's packed with more than 125 recipes for stir-fries, curries, noodles, bowls, and much more.
Many take just a few steps and can be on the table in half an hour or less.
Explore the Chinese roots and American innovations behind your favorite dishes and learn their essential cooking techniques.
The cookbook includes these advantages:
- 130 authentic classic and innovated Chinese recipes
- Possibility for you to create your own menu with a variety of vegetables, meat, seafood, breakfast, and even dessert dishes for any occasion.
You definitely must try these fantastic recipes by yourself
What are you waiting for?
Get your copy of this Chinese Cookbook Now and savor a delicious Chinese meal made in your own kitchen