The Complete Keto Diet Cookbook for Women After 50 [3 in 1]: Cook and Taste 250+ Low-Carb Recipes, Follow the Smart Meal Plan and Discover 50+ Exercis (Paperback)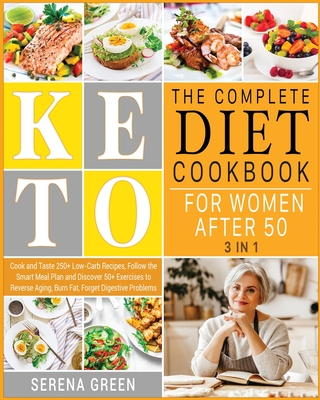 $49.99
Email or call for price.
Description
---
★The Most Wanted Keto Diet Bundle Cookbook ★
Do you think it is difficult to lose weight after the age of 50?
Are you a woman over 50 looking for a highly effective diet to help overcome health issues?
Are you new to chaffle or might have caught wind of them and will get a kick out of the chance to check out them?
We all know food is life. You know you love food But how much can you love food and love your body as well?
Never miss out on the Keto Lifestyle even if you crave waffles
Get onboard the weight loss train quickly, there's no point waiting. Say NO to carb cravings, emotional eating, and binges with Keto chaffles you'd have never thought were incredibly very low carb
75% of Senior Americans are predicted to become overweight and obese by 2025. That's like 3 in every 4 Senior Citizen going overboard the dreaded scale sooner than later...
Why?
Body digestion diminishes by over 30% by age 50. Women's bones and muscles become fatigued and more fragile as time passes, especially at 50 and above, it truly starts to hit harder. The body becomes increasingly powerless to illnesses, for example, Alzheimer's, Cancer, and Heart sickness.
Specifically in this book, you will discover
- What a ketogenic diet is
- Benefits of following a ketogenic diet as a developed lady
- Over 50 Helpful Equipment that can assist you in chaffle preparation★
- All the apparatuses and hardware you're going to need to prepare delicious chaffles ★
- How to make chaffles regardless of whether you don't have a waffle producer or waffle iron
- Free Bonus: Keto Chaffle tips & tricks for women over 50
Weight loss doesn't have to be a painful process. Forget about the number of times you have tried or the number of techniques that did not work for you. Weight loss is much easier to attain following the step-by-step Keto Diet Protocol For Women 50+, included in this book: it is a scientifically constructed, yet easy-to-follow eating protocol.

Already thousands of people have successfully followed it and the results for 87% of them are just outstanding.

So, are you ready to start a new healthy way of life?
Download This Book Today and Break Free From the Diet Trap