Air Fryer Cookbook: Save Time with Complete and Effortless Cuisinart Air Fryer Oven Recipes for Beginners. Fry, Grill and Roast Most Wante (Hardcover)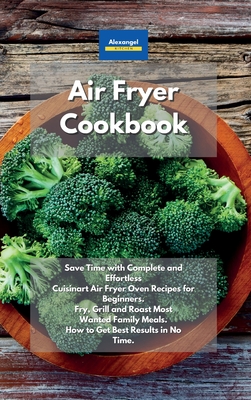 $33.95
Email or call for price.
Description
---
★ 55% discount for bookstores Now at $33.95 instead of $43.95 ★
Are you looking for air fryers recipes mainly for two?
Your customers will never stop using this amazing cookbook
The air fryer has become increasingly popular in the last few years due to its ability to cook food without any oil or fat. Air fryers are a great way to cook healthier food because they eliminate oil and are much faster than frying. They're also eco-friendly, which is especially important for people who want to reduce their carbon footprint. Air fryers are great, but there's a lot of ways to maximize their efficiency. It's important to use the air fryer for what it's designed for.
An air fryer is basically a mini convection oven that uses the heat of the air to cook your food. It's super versatile and you can use it to make everything from French fries to chicken wings. Air fryers are a great cooking tool for busy cooks. They're easy to use and can be set to cook food in just a few minutes, so they're perfect for meal prep. Air fryers are a great way to cook healthy, fast food. Many people use them to make crispy French fries and strips of chicken nuggets, but you can also make healthier versions of other foods.
The air fryer is a small appliance that cooks food quickly using low heat. The air fryer is a great way to avoid deep frying, which can be unhealthy for your health and the environment. Air fryers are better than deep fryers when it comes to cooking food in a healthy way. Air fryers heat food from above, so the oil is never heated by direct contact with the food. If you have an air fryer, you're in luck because it's the perfect appliance for making crispy French fries.
A great way to cook food and be healthier at the same time, air fryers are a great addition to any kitchen. Air fryers can be a great alternative to a regular oven. Air fryers are perfect for cooking fish, chicken, potatoes and other foods that don't need any oil or grease. If you're like most people, you probably use a toaster oven a lot. But if you go the air fryer route, you'll be able to cook with less oil and fewer calories than traditional cooking methods.
To cook food, place the food in the fryer basket and place the basket in the fryer and you can start cooking. Halfway through, give the basket a good shake in order to distribute the food evenly. The air fryer basket makes it easy to take the food out all at once, without the need to probe through the hot basket. It is as easy as that.
This book covers
- Breakfast recipe
- Lunch recipe
- Dinner recipe
- Snacks recipe
- Dessert recipe
And much more
This air fryer cookbook has each and every recipe fit for two people so that eating delicious, healthy meals has never been easier You can use the air fryer for any meal of the day from breakfast to dessert. You can even cook delicious side dishes to go with leftover meat whenever you want or to finish the perfect dinner. You don't have to cook for a large family to use the air fryer to your advantage.
Buy it NOW and let your customers become addicted to this incredible book