No-Stress Air Fryer Cookbook: 50 Everyday Recipes For Whole Family (Paperback)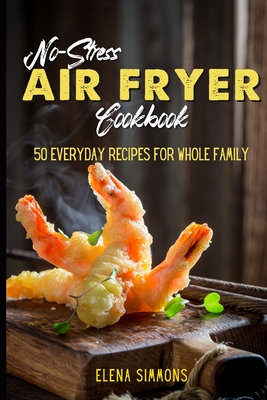 $24.99
Email or call for price.
Description
---
Master Your Air Fryer and Impress Your Whole Family with Easy and No-stress Recipes
This is the perfect cookbook to improve the quality of your homemade meals, from breakfast to dessert. Your cooking will be quick, easy and very funny And your whole family will appreciate it
This appliance comes with a manual for easy assembly and as a handy guide for first-time users. Most brands also include a pamphlet of recipes to give ideas about the wide range of dishes that you can create using this single kitchen appliance. Once you are ready to cook and you have all your ingredients ready, put them in the basket and insert it into the fryer. Other recipes will require you to preheat the air fryer before using. Once the basket is in, set the temperature and timer and begin cooking.
You can use an air fryer to cook food in a variety of ways. Once you get used with the basics, you can try its other features, such as advanced baking and using air fryer dehydrators.
In this book, you will learn more about:
Breakfast
Mains
Sides
Seafood
Poultry
Meat
Eggs and Dairy
Vegetables
Snacks
Dessert
... AND MORE
What are you waiting for? Don't wait anymore, press the buy now button and get started.