The Ultimate Instant Pot Pressure Cookbook: 1001 Simple, Quick & Delicious Everyday Recipes for Beginners and Advanced Users on a Budget. Easy, Fast, (Hardcover)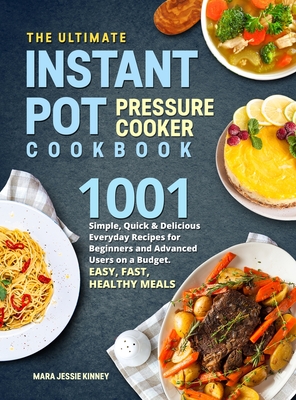 $41.99
Email or call for price.
Description
---
Doesn't matter how experienced you are.
Fresh... tasty & delicious food is more than difficult to cook; especially if you are a beginner.
But... That's not a problem anymore - we've got you covered on this.
Today, you can get the brand-new Instant Pot Cookbook; the first step-by-step
guide that will make cooking easier (...again).
You will not only get tons of new recipes. But you will start eating healthy & delightful food; easily. Yet, that's not all.
For All Budgets - You won't have to care about spending big. These recipes are totally adapted to all kinds of budgets.
Thousands Of Different Recipes - Do you struggle to get something you enjoy eating? There's over a thousand for you.
Easy-To-Follow - You don't need to be an expert to prepare them; even a beginner can.
Take The Most Out Of Your Pot - it's time to turn this multi-device into your best (cooking) friend.
There is nothing better than being capable of preparing something delicious; in less than a few minutes. But.. That's now possible.
Your instant pot got a strong hidden potential - and you need to take advantage of it. Yes, it's time to reinvent cooking. There is no time to waste, and you require quick, healthy & tasty recipes to prepare.
What are you waiting for?
...It's better to make it simpler.
You will get it delivered to you; in just a few clicks.
Click on "Add To Cart".and discover a new direction to cook; like a real professional.