Air Fryer Obsession - Cookbook for Beginners and Advanced: 600 Quick and Easy Recipes for Effortless Air Frying 21-Day Meal Plan (Paperback)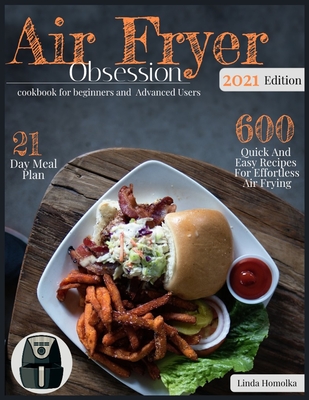 $22.97
Email or call for price.
Description
---
So, you decided to try air frying and now spend the majority of your time searching for things you can cook in it. And looking up what you can swap for this or for that?
Tired of spending all your time searching for Air fryer friendly dishes? Tired of finding the perfect recipe just to realize that there are not actually air fryer instructions? Always checking ingredients and nutrition facts. If so, then keep reading...
Free yourself from the google searches and dive right into this cookbook. Inside these pages there lies an arsenal of recipes to attack those cravings and make your air fryer a staple in your kitchen. Stop listening to all those naysayers who say it cannot be as good. Getting the fried food, you love is still possible with the help of your trusty air fryer. Throughout the cookbook, you will find many alternatives to help you live a healthier lifestyle and still enjoy many of your favorite dishes. Accelerating your heath to places you may have never dreamed of. While still satisfying those cravings for all the things that taste so wonderful when fried.
The Air Fryer Cookbook is just what you need to launch yourself to the next level. Discover what it is like to prepare a dish knowing you are making a better choice for your body.
If you are ready for an exciting lifestyle change, then you are looking in the right place. Gone are the days of dieting to lose weight, or fasting to get healthy. Making better choices with your food is where it's at Not only is this cookbook full of amazing treats for your pallet it is also chocked full of EASY to prepare meals perfect for the busy person.
Let's not forget that the air fryer can save you time from traditional cooking since preheating happens in a snap. No longer having to wait for 20 - 40 minutes for the oven to come to temp. With the super-heated power in the air fryer you can pre-heat in and be cooking before the oven even comes to temperature.
Here is just a snippet of some of the 100+ recipes you will soon be mastering:
Calzones
Loaded Baked Potatoes
Blueberry Lemon Muffins
Puffed Egg Tarts
Omelet
BBQ Stuff Chicken
Duck Breast
Smoky Ribs
Garlic Her Steak
Lamb Chops
Lobster Tail
Fish Tacos
Eggplant Parmesan
Beignets
Spiced Apples
So Many More
If you are ready to take the next step and enrich your life with a healthy lifestyle you have come to the right place. Release yourself from self-doubt and dive right into finding your next healthy and delicious meal. Fill your mind with the knowledge and benefits of the air frying lifestyle from these pages.
Okay, so the ball is now in your corner. Are you ready to rock this lifestyle? Are you ready to show yourself that you can do it? If you are, then my friend you know what you need to do. These recipes are just waiting for you to master. Why not enjoy something new that you made tonight