Instant Vortex Meals Air Fryer Oven Cookbook for Beginners & Advanced Users: Quick, Delicious, and Healthy Instant Vortex Air Fryer Recipes on a budge (Hardcover)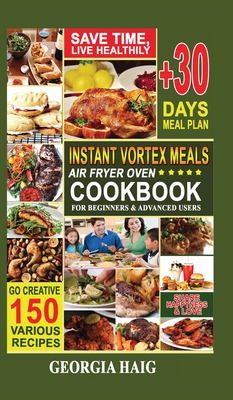 $39.97
Email or call for price.
Description
---
Are you Tired of Compromising
Your Health to Eat Delicious Food?
★★★★★
Do You Want To Cook Healthy Meal
Using Very Little or No-Oil?
Then this
INSTANT VORTEX AIR FRYER OVEN COOKBOOK
is for You ♥
because it offers you Healthy and Tasty Traditional Recipes
from all around the World that you can Cook Quickly and Effortlessly at Home
Skip deep-fried foods from now on and SAY "YES" to Vortex Air Fryer Cooked Foods
The Vortex Air Fryer is a gift of technological advancements that makes sure to save your time in cooking and its smart functions make it effortless to fry, bake, grill, roast, preheat, and more. As it is closed from all sides, there is no risk of getting hot oil into your skin. Vortex air fryer helps you cook in the safest way possible compared to the other kitchen appliances.
In this book you will have:
How Instant Vortex Air Fryer works;
Healthy Ways to Cook;
Easy to Find Ingredients: Cook with easy ingredients found at your Local Grocery Store;
Affordable Food: Save money by cooking with friendly ingredients;
Cooking Time: Save time in the kitchen;
And many more....
+200 Pages of Special Dishes:
Meat, Vegetable, Poultry, Fish and Seafood, Sweet, Vegan, Turkey, chicken and Delicious Snacks, Appetizers, Desserts...
+150 Varieties of World's traditional recipes:
Satisfy your creative and share recipes with your Family, Friends and Loved ones...
+ 30 Days Meal Plan:
Breakfast, Lunch, Dinner and mid-morning or afternoon snacks...
Deep-fried foods create many health problems and we all know that. An air fryer does not need oil to cook foods. So, with the use of air fryer you can enjoy varieties of food without worrying about any unhealthy side effects on your body. It requires only 15% of oil for cooking. It also protects the nutritional values of food.
GO CREATIVE, Stop Waiting and Get a copy of this book
START LIVING A HEALTHIER LIFESTYLE, Eat Tasty Foods and Share this happiness with your Family and Loved Ones
★★★★★