Bedtime Stories for Adults: This Book Includes: Volume 1, Volume 2: Relaxing Sleep Stories for Meditation and Daily Stress Relief. Calm Your Mind (Paperback)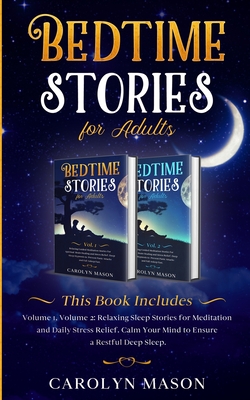 $29.95
Email or call for price.
Description
---
If you find that getting to sleep is a chore that keeps dragging on each night, you're not alone. Every year, more and more people report their sleeping difficulty, and it's really no wonder with the growing percentage of people with stress, anxiety disorders, depression and insomnia. It might seem that you can't do anything about tension. The bills will never stop coming, there will never be extra hours in the day and you will always have to take on your family responsibilities. But you have much more control than you could believe...
Do you remember going to bed as a child, hearing those wonderful stories your mom or dad told you? Do you remember how they made you feel? The imagery you would remember? Regardless of what type of tales you heard, bedtime stories are wonderful for falling asleep. Most of them have soft, pleasant words that people love to hear. The same atmosphere lives in Bedtime Stories for Adults but here it allows you to meditate in a state of deep relaxation using hypnosis to overcome insomnia and fall asleep fast. Many people misunderstand hypnosis. It is a commonly held belief that hypnosis is about suggestion and manipulation and enables some kind of mind control. This couldn't be further from the truth. Hypnosis is just about focusing attention. The goal of sleep hypnosis is to replace your stream of thoughts with a new stream of information, the story. Rather than keeping you on your feet and alert, these stories are proven to calm your mind and body down. You will dump your negative thoughts and you will embrace the visualization of the relaxing elements of the tale:
Dive into an infinite bath and listen to what the water has to say
Sense the flow of the changing seasons
Lay on the sand of a tropical island
And much more...
The bundle consists of the following:
Volume 1:
Floating Forever Downstream
The Changing Seasons
A Relaxing Break
Dandelion Wish
Falling Asleep in a Rainforest
The Hot Air Balloon
In Your Mother's Arms
And much more...
Volume 2:
A Tropical Island
The Place of Greatest Comfort
A Journey Through Space and Time
The Plane
A Quiet Night in the Forest
Dreaming of Blue
Alone to the Moon
And much more...
No matter how stressed you feel. These stories are born to help adults unwind at the end of a long day. Just read to one of them before going to sleep. You'll be able to keep stressors off your bed and fall asleep soundly.