Permaculture Gardening: How to Grow Healthy Vegetables, Fruits, Herbs, and Flowers Naturally. A Simple and Practical Guide for Beginners to De (Paperback)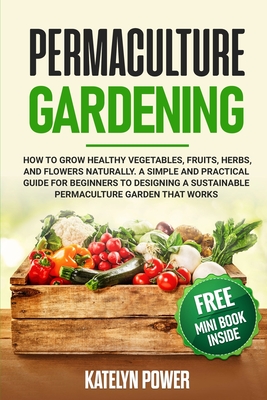 $14.99
Email or call for price.
Description
---
Your Gift: Free in-depth mini ebook that can be downloaded from the link inside
Are you looking to be self-sufficient by producing your own food while at the same time having a rich, perfectly designed outdoors dotted with flowers that decorate your home and make every moment spent outdoors refreshing?
And are you looking for an easy to follow guide that will impart in you the necessary skills to bring out Pinterest worthy ideas that will make you proud whenever you step outside your home?
If you've answered YES, keep reading...
You Are About To Discover Exactly How You Can Design A Sustainable Permaculture Garden That You Will Use To Grow Your Own Vegetables, Fruits, Herbs, And Flowers Naturally, Even If You've Never Done Anything Like It Before
Imagine having your own garden that's rich with a combination of beautiful flowers, herbs, vegetables, fruits, and more, neatly organized and optimized in a way that everything is exactly where it is supposed to be.
Imagine the sense of fulfillment you'd get when you know you are self-sufficient while at the same time having beautiful spaces that you want to spend all your mornings, afternoons, and evenings just admiring the beauty.
By virtue that you are reading this, I can bet that you've had enough of dreaming about permaculture and are looking to get started right away but have all manner of questions going through your mind...
Where do you even start?
What's this permaculture really about - what's its true essence/purpose?
What principles should you follow if you are to bring out the true essence of permaculture in your backyard garden?
What makes permaculture so special that you should care to venture into it if you haven't?
In what ways does permaculture help in conserving the environment?
Where do you start?
How do you bring out the best in permaculture?
How do you deal with the challenges you may face along the way?
If you have these and other related questions, this book is for you.
It will teach you:
The basics of permaculture, including what it is, how it started, and what it entails
The unique benefits that come with permaculture that you need to be aware of
The different permaculture gardening ideas and designs you can implement
How to put the principles of permaculture into practice in your garden
7 easy steps that will propel you to success in permaculture
How to transition your existing garden into a sustainable permaculture garden
How to use nature and natural systems to their fullest extent
How to make permaculture happen anywhere
Tips and tricks to practical permaculture gardening that will make your garden Pinterest worthy
And much more
Yes, even if you've never done anything involving gardening before, and are curious to know how exactly you can turn your garden into a self-sustaining system that's a beauty to behold, which gives you a fresh supply of your favorite herbs and vegetables, this book will prove very helpful
Don't wait...
Buy Now to get started