Container Vegetable Gardening: The Ultimate Guide to Grow a Bounty of Food in Pots, Raised Beds, or Tubs. No Matter Where You are, Garden, Patio or B (Hardcover)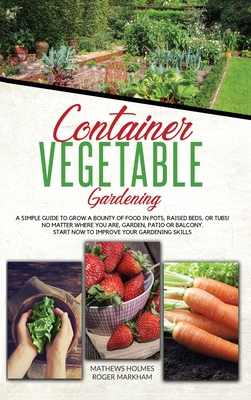 $30.99
Email or call for price.
Description
---
Grow your own greens no matter where you are with the help of a container garden
Do you want to enjoy fresh, tasty fruit and vegetables, but you don't have space for a traditional garden? Are you searching for a way to grow a wide range of food from containers, pots, tubs, or raised beds? Or are you a beginner gardener, and you want to add an edible touch to your balcony, patio, or rooftop? Then it's time to try this book
Gardening is an enjoyable and rewarding hobby, but far too many people think you need a huge patch of land to get started. The truth is that you can enjoy a beautiful edible garden of fruit and vegetables no matter the amount of space you have Whether it's a patio, a balcony, or a tiny patch of land, you can start growing with hardly any space at all
This brilliant gardening guide unveils the secrets of container vegetable gardening, offering you a practical plan for converting your small space into a thriving garden with tons of delicious crops. Designed to help you add a decorative touch to your outdoor space and show you the benefits of home-grown crops and herbs, inside you'll find an all-in-one guide to succeeding with container gardening.
Plus, you'll also find a hand-picked selection of lovely starter plants to begin your gardening journey, including popular fruit and vegetables, bulbs, roots and more.
Here's what you'll find inside:
- Simple Tips For Picking The Perfect Pots and Containers
- How To Tailor Each Pot To Your Plant's Needs (Including Soil, Drainage, and More)
- A Ton of Inspiration For Creating a Thriving, Decorative Container Gardening Display
- Step-By-Step Instructions For Caring For Your Plants
- DIY Organic Pesticides To Help You Manage Problem Fungi, Mould and Insects
- Natural Fertilizers To Kickstart Your Garden (Most of These You Already Have )
- "Planting Recipes" For Creating The Perfect Combination Of ornamental Crops
- And Much More
Whether you want to add a creative flair to your ou tdoor space, experience the benefits of working with nature, or simply experience fresh, organic plants straight from the garden to your plate, this book makes the perfect guide for every aspiring gardener. No matter your level of experience, inside you'll find simple breakdowns and all the advice you need to kickstart your new hobby and develop your green thumbs
Scroll up and buy now to start your container garden today