COVID-19
Weller Book Works is closed to the public. But Catherine and Tony are working behind closed doors to keep the store ready to open when we're able.
We're still taking and filling orders via this website for new books or Biblio for used and rare books. At this time we can offer curbside pick-up or shipping only.
We are unable to consider used book offers until after we re-open to the public.
Chaos Queen - Dark Immolation (Chaos Queen 2) (Paperback)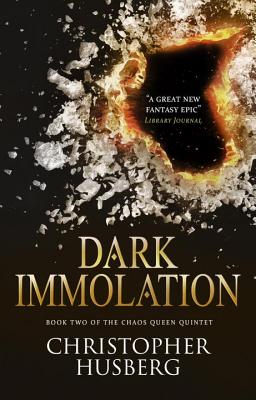 Description
---
A new religion is rising, gathering followers drawn by rumors of prophetess Jane Oden. Her sister Cinzia—once a Cantic priestess—is by her side, but fears that Jane will lead them to ruin. For both the Church and the Nazaniin assassins are still on their trail, and much worse may come.
Knot, his true nature now revealed if not truly understood, is haunted by his memories, and is not the ally he once was. Astrid travels to Tinska to find answers for her friend, but the child-like vampire has old enemies who have been waiting for her return. And beyond the Blood Gate in the empire of Roden, a tiellan woman finds herself with a new protector. One who wants to use her extraordinary abilities for his own ends...
About the Author
---
Christopher Husberg was born in Alaska and studied at Brigham Young University, where he went on to teach creative writing. His debut novel, Duskfall, was published in 2016, and was described as "Perfect for fans of Daniel Abraham and Brandon Sanderson" by Library Journal. He lives with his wife in Lehi, Utah.
Praise For…
---
"Following the dramatic events of Duskfall, Husberg settles in for granular worldbuilding...The story has some of the action, horror, and revelations of the first volume, but this is a book of politics first: religion versus government, traditional female power versus traditional male power, and the wild cards that skew a chess match not designed for them." - Publishers Weekly


 "This is dark fantasy of the highest order, telling an expansive story across a truly epic canvas." - Barnes & Noble SFF blog

"These books are perfect for the dedicated fantasy reader. But the spot-on world building and relatable characters could also gain the interest of more casual fantasy readers." - Booklist