COVID-19
We miss having customers in the store! However, we want our customers and staff to stay healthy and safe so are still in the process of opening safely.
While we work to open up, we're also here to meet your bookish needs! To buy new books, order through this website. If you're looking for used or rare books, browse our collection on Biblio. You can also give us a call to place an order or to check on the availability of a title.
We are unable to consider used book offers until after we re-open to the public.
The Rise of Wolf 8: Witnessing the Triumph of Yellowstone's Underdog (Hardcover)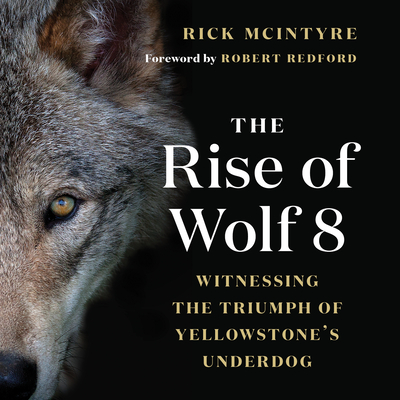 Description
---
"The powerful origin story of one of Yellowstone's greatest and most famous wolves."
--Washington Post
Book One in The Alpha Wolves of Yellowstone Series.
Book Two, The Reign of Wolf 21, is coming September 29, 2020.
Yellowstone National Park was once home to an abundance of wild wolves--but park rangers killed the last of their kind in the 1920s. Decades later, the rangers brought them back, with the first wolves arriving from Canada in 1995.
This is the incredible true story of one of those wolves.
Wolf 8 struggles at first--he is smaller than the other pups, and often bullied--but soon he bonds with an alpha female whose mate was shot. An unusually young alpha male, barely a teenager in human years, Wolf 8 rises to the occasion, hunting skillfully, and even defending his family from the wolf who killed his father. But soon he faces a new opponent: his adopted son, who mates with a violent alpha female. Can Wolf 8 protect his valley without harming his prot g ?
" The Rise of Wolf 8] is a goldmine for information on all aspects of wolf behavior and clearly shows they are clever, smart, and emotional beings."
--Marc Bekoff, Psychology Today
About the Author
---
Rick McIntyre has worked with the National Park Service for more than fifty years and has recorded more sightings of wild wolves than any other person. During one fifteen year period, he rose before dawn every day to observe the Yellowstone wolves. Now retired, he has spoken about the Yellowstone Wolves with news outlets such as 60 Minutes and NPR's Snap Judgement, and is profiled extensively in American Wolf by Nate Blakeslee.Robert Redford--actor, director, and producer--has been a passionate art and environmental activist since the early 1970s. He has been an advocate for climate change awareness, clean energy, and habitat protection for over forty years.