Greenhouse Gardening: A Step-by-Step Guide on How to Grow Foods and Plants for Beginners (Paperback)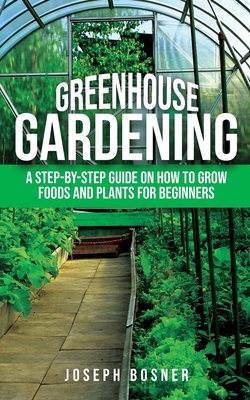 $17.55

Not in Stock... Available to ship in 3-5 days​
Description
---
Discover how to grow your own organic fruits, herbs and vegetables all year round with the definitive guide to greenhouse gardening
Are you looking for an alternative way to grow some of your favorite plants without having to wait forever for the right season to arrive? Are you tired of store-bought fruits, veggies and herbs that are raised with the aid of chemicals and synthetic pesticides?
Have you always wanted to own a greenhouse, but can't because of how intimidating it seems to start one?
If yes, then keep reading...
In this guide, Joseph Bosner condenses his expertise in the area of greenhouse gardening and shows you how you can design and set up your own greenhouse, or how to properly choose a pre-built one that suits your needs and provides you with fresh produce all year long.
Here's what you're going to discover in Greenhouse Gardening:
3 useful pointers to help you choose the ideal location for your greenhouse
How to design and build your own greenhouse
Choosing the frame and cover materials best suited for your needs and budget
4 important factors to consider before buying a ready-made greenhouse
Different types of crops you can grow during the warm and cold seasons
Climatic conditions to consider when keeping a greenhouse for each of the four seasons of the year
3 simple tips to help protect your crops against diseases
Every tool you need to help you succeed as a greenhouse farmer
A simple, 4-step method to help you propagate your greenhouse plants with a high survival rate
...and much more
Whether you're a complete greenhorn to greenhouse gardening or are a dab hand with this very special way of growing crops, Greenhouse Gardening: A Step-By-Step Guide on How to Grow Foods And Plants for Beginners will become your ultimate reference guide to help you maintain a vibrant greenhouse
Ready to begin your greenhouse gardening journey? Scroll up and click the "add to cart" button to buy now