Hope Rides Again: An Obama Biden Mystery (Obama Biden Mysteries #2) (Paperback)
Weller Book Works was founded as Zion Bookstore nearly 90 years ago. Over the years we've been known as Sam Weller's Books and Sam Weller's Zion Bookstore. We are in our third generation of operations, owned and managed by Tony and Catherine Weller. Our staff includes four generations of Wellers and a remarkable team of book lovers. Our bookstore sells new, used and rare books in a space built to surprise and delight you in historic Trolley Square.

We're happy to answer your questions and help you select just the right book.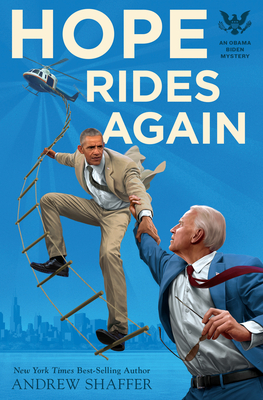 Other Books in Series
This is book number 2 in the Obama Biden Mysteries series.
Description
---
In the sequel to the New York Times best-selling novel Hope Never Dies, Obama and Biden reprise their roles as BFFs-turned-detectives as they chase Obama's stolen cell phone through the streets of Chicago--and right into a vast conspiracy.

Following a long but successful book tour, Joe Biden has one more stop before he can return home: Chicago. His old pal Barack Obama has invited him to meet a wealthy benefactor whose endorsement could turn the tide for Joe if he decides to run for president.

The two friends barely have time to catch up before another mystery lands in their laps: Obama's prized Blackberry is stolen. When their number-one suspect winds up full of lead on the South Side, the police are content to write it off as just another gangland shooting. But Joe and Obama smell a rat...

Set against the backdrop of a raucous city on St. Patrick's Day, Joe and Obama race to find the shooter, only to uncover a vast conspiracy that goes deeper than the waters of Lake Michigan—which is exactly where they'll spend the rest of their retirement if they're not careful.
About the Author
---
Andrew Shaffer is the New York Times best-selling author of more than a dozen books, including the national best seller Hope Never Dies: An Obama Biden Mystery. He lives with his wife, the novelist Tiffany Reisz, in Kentucky.
Praise For…
---
A 2019 Goodreads Choice Awards Finalist

"Enjoyably ludicrous."—Politico

"If you're pining for the previous administration and craving an escapist summer read, Andrew Shaffer has the cure for what ails you."—Los Angeles Times

"This spirited, cheeky tale is everything you want from the Obama Biden Mystery series."—B&N Reads

"Sequels are often notoriously disappointing. How lucky, then, that Hope Rides Again isn't."—The Anniston Star

"If you're looking for something enjoyable and slight out there, this is definitely a book to try."—Yakima Herald-Republic

"Like its predecessor...[Hope Rides Again] is ridiculously insane and inventive."—BookTrib

"Many of the politically aware may soon have nostalgic fondness for humor like this."—LEO Weekly

"The game is afoot for Joe and Barry. This is fun, escapist fiction with enough details...to stay grounded in a kind of reality."—Booklist

"Once again, Shaffer convincingly portrays his unusual leads as action heroes."—Publishers Weekly

"Another action-packed mystery rife with close calls."—Shelf Awareness for Readers

"If you want to take a break from the nonstop coverage of all the 2020 Democratic presidential candidates, including Joe Biden, let us recommend a crime thriller that stars...Joe Biden."—Clearing Out the Clutter

Praise for Hope Never Dies:
An Official Summer Read of Publishers Weekly and The Interrobang 
A 2018 Goodreads Choice Award Finalist

"[Hope Never Dies is] a roughly 300-page work of political fanfiction, an escapist fantasy that will likely appeal to liberals pining for the previous administration, longing for the Obama-Biden team to emerge from political retirement as action heroes. But it's also at times a surprisingly earnest story about estranged friends who are reunited under strange circumstances."—Alexandra Alter, New York Times

"It's a giddy premise, a bit of Resistance wish-fulfillment for those who'd like to see Biden and Obama trading one-liners and cracking skulls."—New Yorker

"While readers are sure to get a kick out of the codenames and inside jokes used playfully throughout, Hope Never Dies is an intriguing saga that doesn't sacrifice momentum for winks and nods."—Entertainment Weekly
 
"It's easy to imagine that if these fist-bumping brothers were ever to become a modern Sherlock and Watson, the world might be a better, more interesting place."—USA Today, ★★★ out of four 
 
"Obama and Biden are the ultimate crime-fighting team in Hope Never Dies."—Washington Post
 
"An ambitious and completely successful novel."—Booklist
 
"Deeply weird and very funny."—The Wall Street Journal
​ 
"Step aside Holmes and Watson; back off Poirot and Hastings. A new pair of amateur sleuths are hitting town this month: Barack Obama and Joe Biden."—The Guardian (UK) 
 
"Shaffer has sublimated liberal grief, nostalgia, and fantasy into a sort of allegorical potboiler."—Slate

"A novel nostalgic for a feel-good moment in US politics—one that now seems far in the past."—Quartz