COVID-19
We miss having customers in the store! However, we want our customers and staff to stay healthy and safe so are still in the process of opening safely.
While we work to open up, we're also here to meet your bookish needs! To buy new books, order through this website. If you're looking for used or rare books, browse our collection on Biblio. You can also give us a call to place an order or to check on the availability of a title.
We are unable to consider used book offers until after we re-open to the public.
The Yoga Plate: Bring Your Practice into the Kitchen with 108 Simple & Nourishing Vegan Recipes (Hardcover)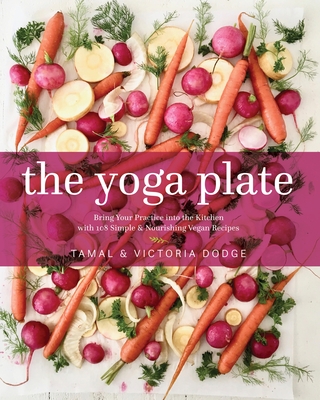 $29.95
Not in Stock... Available to ship in 3-5 days​
Description
---
"The Yoga Plate brings us compassion and living right for our families, our planet and our animals—a beautiful offering for good all around." —Julie Piatt and Rich Roll, bestselling authors, wellness leaders, chefs, and podcast hosts

Discover 108 nourishing and delicious vegan recipes in the first modern cookbook to marry yoga's principle of ahimsa with nutrition

We take a lot of care when it comes to choosing the proper clothing for yoga, the right accessories, the best studio—but primary to these considerations is an often overlooked yet vital component of practice: our diet. How we eat might be the most important aspect of an effective practice. How we eat is a huge component to the practice because it represents how we treat and nourish ourselves. By changing the way we eat physically and consciously, we can put ourselves on the path to greater well-being.

In The Yoga Plate, LA-based yoga power couple Tamal and Victoria Dodge introduce readers to the philosophy of yoga as it is reflected in our eating choices. The 108 recipes are designed according to the concept of ahimsa, or non-harm. "Consciously or not, we can cause a lot of harm with our eating habits," explain the authors. "Living with ahimsa means we try to cause the least harm possible to all living creatures."

Each recipe takes you through your daily practice of yoga, starting with "Morning Meditations," where you'll find smoothies and breakfasts to fuel and power you through the day; "A Plate Full of Prana," with snacks, soups, and salads to revitalize your system; "A Bowl Full of Yin," with recipes to help cultivate a centered mood; and "Sweet Savasana" for restorative and beneficial dessert options.

A well-rounded yoga practice includes a conscious approach to the things we eat. With The Yoga Plate, readers can make each meal a sacred activity to support both our practice and well-being.
About the Author
---
Tamal Dodge is a renowned yoga teacher, trainer and co-founder of LA premiere yoga studio, Yoga Salt, with its newest location in North Carolina. He's been featured in the New York Times, LA times, Time Magazine, Chicago Tribune, Self, Better Homes & Gardens, Yogi Times, MindBodyGreen, and more. He teaches yoga around the world and stars in several bestselling yoga DVDs that sold worldwide. www.yogasalt.com.

Victoria Dodge is a co-founder of Yoga Salt, professional photographer, and cooking expert who has worked with companies such as Lululemon, Forbes, and Apple, as well as celebrity clients, models, and Hollywood figures like Shaquille O'Neal, James Cameron and Sterling K. Brown. The Dodges live in North Carolina with their two children. nourishmentnow.com.
Praise For…
---
"Tamal and Victoria have brought the awareness of yoga into our kitchens—the true foundational element that has the capability to level up the spiritual awareness in our food and touch the soul. The Yoga Plate brings us compassion and right living for our families, our planet, and our animals—a beautiful offering for good all around." —Julie Piatt and Rich Roll, bestselling authors, wellness leaders, chefs, and podcast hosts

"I love the way Victoria and Tamal introduce the philosophy of yoga as it is reflected on our plates. All of the recipes are designed according to the concept of ahimsa or non-harm, which is part of the Eight Limb Path in yoga. I can't wait to try all of the recipes in the book and share them with my friends and family as they start to realize our eating choices are making a huge impact on the planet. Thank you Tamal and Victoria for making vegan cuisine fun, easy, and delicious." —Koya Webb, holistic health coach, yoga instructor, and author of Let Your Fears Make You Fierce

"The Yoga Plate carries an important message, as well as practical tools (i.e. delicious recipes!) for truly living yoga as a lifestyle. It offers its readers a deeper pathway into peace, health, and harmony in our lives that comes from the holistic approach to yoga that it espouses." —Kimberly Snyder, CN, New York Times bestselling author of Recipes for Your Perfectly Imperfect Life, nutritionist, and founder of Solluna

"I'm a fan of Victoria and Tamal . . . they live their talk in spirit, in the work they do, and in the food they prepare. The food they make is clean, healthy, and so very delicious. Every morsel is always awesome. In my book, they are stars." —Mimi Kirk, bestselling author, raw food chef, and international speaker

"Victoria showed me that vegan cooking and food could be fun, delicious, and totally doable! She was laid back and breezy and showed me that mindfulness with my food could be a pleasure and not a chore. We highly recommend incorporating her recipes and techniques into your lifestyle. You won't be disappointed!" —Ryan Bathe and Sterling Brown, stars of This Is Us

"Tamal and Victoria Dodge are some of the OGs of plant-based cooking and wellness. I did my 200-hour yoga teacher training with Tamal and always get teary-eyed speaking of his soulful teachings. His classes are transformative, kind, and connected. These two lead their lives from a place of authenticity and truth. I can't wait to get my hands on this book!" —Sophie Jaffe, owner of Philosophie Superfoods

"Some of my fondest memories are of hanging out with Tamal and Victoria in their kitchen and studio. If everyone could eat Victoria's homemade granola and listen to Tamal sing everyday, the world would be a better place. Amazing people = better world. They are such a huge part of that equation." —Kathryn Budig, bestselling author, podcast host, and international yoga instructor

"Tamal and Victoria Dodge are the living embodiment of the true yogic lifestyle. Their authenticity, knowledge, and expertise—not only in the area of nutrition, but in yoga philosophy, meditation, and compassionate living—are a rare gift in this world. I have no doubt The Yoga Plate will be of benefit
to millions on the path to greater physical, mental, and spiritual health." —Liz Arch, author, international yoga teacher, and Yoga Journal cover girl